How to Train Your Dog to Ride in a Backpack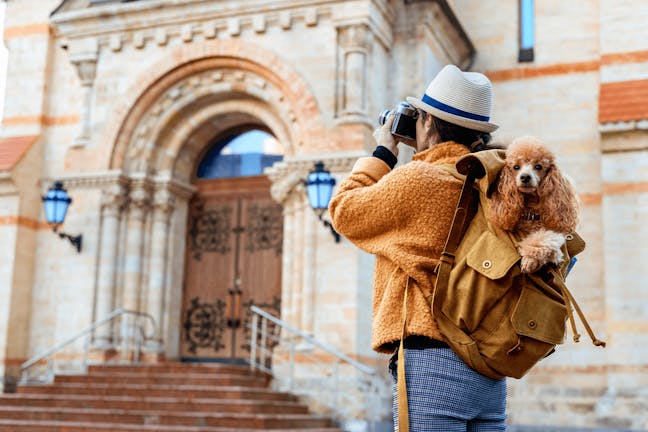 Introduction
These days, dogs go everywhere with their pet parents! Strenuous adventures like hiking, biking, and even cross country skiing are no match for the need for Bosco and his humans to embrace life. Even fur babies with short legs and little stamina are able to pawrtake in activities with their families because of the availability of the doggie backpack.
This isn't a backpack that gets buckled onto a pooch so they can carry their own water bowl and frisbee. It's the one that allows people to carry their pupsters with them to places where "four on the floor" might not be practical.
Long distances and rough terrain could be daunting to an aging pup, or one with tender footpads or short legs, making a fun hike with your fur baby unpleasant or unlikely. But a backpack could make it possible! Curious about how to get your dog to willingly ride in a backpack to all sorts of adventures with you? Here's a look at what you need to do to get there!
To get started on your dog training adventure, book an in-home or digital dog training session through the Wag! app.

Top
Defining Tasks
How easy it is to train a dogger to ride in a backpack will largely depend on their breed, intelligence, and personality. Some pups are easier to train in general, while others may stubbornly refuse to participate. Starting any training during puppyhood will make it easier, and training a dog to ride in a backpack is no exception.
One of the most important things you can do to help your pup become comfortable with a backpack is to leave it where they can sniff and explore it well before you ask them to actually get in it. If you leave it open, they may even get so used to it they'll take a nap in it.
Some doggos are clearly not meant to be carried around in a pack, much as they might like to be. The upper limit of a dog's safe backpacking size is about 60 to 70 pounds. Slings and other types of carrying equipment can be adapted to fit the larger breeds if the human can manage to carry the weight. Imagine seeing a Great Dane riding on a human! 
While some fur babies may never get comfurtable riding in a pack, most love the rhythmic movement and warmth of being carried close to their parent's body. For some really small dogs, front packs may work better, but the principles for training for them will be basically the same. Backpacks are generally healthier for the carrier, however, and even mini-pups can usually be taught to get comfortable in them.
Top
Getting Started
Ensuring that your pooch is relaxed and mellow before attempting to introduce them to backpack training is essential. The last thing you want to do is to grab them during playtime when they're not ready to consider a new, maybe scary, task. If you can't capture their attention, simply stop and try again another time.
Treats and praise are also vital, so keep plenty of both handy. If you suspect that the dogster's ordinary treats won't produce enough motivation, try offering some cooked chicken bits, or cooked egg. Most dogs also love cheese broken into tiny chunks.
Choosing the right backpack will make your task much easier, so be sure to spend some time evaluating the different types and brands. Costs of doggie backpacks vary widely. It's also a good idea to help Bosco "try on" a few in a store if the pup will cooperate. You can still make your purchase online if you wish, but you'll know exactly what to order and in the pawrfect size.
Dogs are much happier when they have a familiar t-shirt, favorite toy, or blankie to cuddle up to when they're in different surroundings. Placing one or more of these cuddly items in the backpack before enticing them in may help make their initial reaction less stressful. 
Top
Introducing the backpack
If the backpack has already been hanging around where your fur baby can get used to it, this step will be a short one. Interacting with the pup and the bag together further reinforces their comfort level. Some treats tossed on the floor nearby may get them to approach the backpack if they're shy. Remember that you're the central "bait" and it's your presence that's most important to them. Associating the bag with their human bestie and pleasant experiences will make your future rides a joy with no fuss.
Invite them to check it out
A dog who pokes their head into a pack is showing interest, but they may need a lure to urge them to explore further. A few treats inside, along with their cozy items, will draw their attention. Reduce distractions that will startle your doggo by turning the radio or TV off or down, saving running the dishwasher or washing machine for later, and even closing the door to the room you're in. A sign on the front door alerting visitors to your training session and asking them to refrain from knocking or ringing may also be a good idea.
Give them a reason to hang out in there
Your goal here is to gradually increase your pupper's comfort and encourage them to go inside for longer and longer periods. This is another time to use your treats, along with enthusiastic praise, when you find them inside. When Bosco starts taking naps in the backpack, that's your cue to take the next step: closing them in. It's important to wake them up if they're sleeping so they don't freak out when they realize you're closing the bag. Practice harnessing them into the bag, too. Take it slow.
Take a walk
It's time to introduce them to having the pack, with them in it, strapped to your back and in motion. A few walks around the inside of the house where they feel safest is a good starting point for this step. As your pup gets more comfortable, venture outside for short walks in the yard, and down the street, lengthening the walk with each outing. This gets them used to outdoor sounds and other distractions. This step may take several days or weeks, depending on the dog.
Adventure time!
Once your fur buddy is clearly comfortable riding in the pack, it's time to go on a real adventure! Plan a hike or a walk in the park, or a bike ride. Take them to the nearest dog-friendly store, where you can keep them in the pack or put them on a leash to explore with you. At this point, keep the explorations short, lengthening them each time. Ideally, this step should be repeated a few times a week so they don't regress. Soon they'll be your furvorite passenger for wherever you go!
By Leslie Ingraham
Published: 06/06/2022, edited: 06/06/2022
More articles by Leslie Ingraham
---