How to Train Your Rescue Puppy to Socialize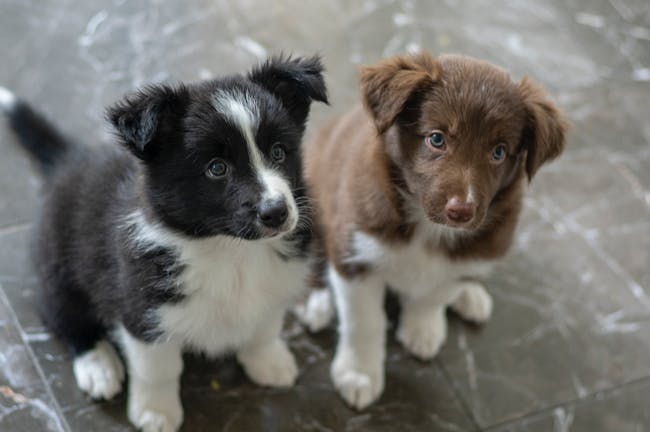 Introduction
Training the newest fur-baby to join your family isn't an easy task, which goes double for rescue pups. Rescues are the "pawfect" dogs for adoption but can sometimes require a little extra attention to ensure they live their best life. 
From anxiety to signs of aggression, there's lots to watch out for when training a rescue puppy. Unfortunately, some rescue puppies have had a hard start to their lives, causing them to be fearful of people and other animals. Luckily, with lots of love and persistence, your rescue puppy will grow up to be the "ultimutt" canine compadre.
Top
Defining Tasks
One of the defining tasks of training a rescue puppy to socialize is to uncover the root of their behavior. Is your dog aggressive towards people they don't know? Do they shy away only when interacting with other dogs? Finding out what triggers your puppy's antisocial behavior will go a long way to helping properly socialize your puppy. 
In some cases, especially with young dogs, it may be as simple as they're inexperienced when interacting with animals and people due to a sheltered upbringing. As a result, you shouldn't assume your dog's antisocial behavior is rooted in abuse or neglect. You'll no doubt be able to find out more about your dog's history and behavior from the adoption agency. 
By providing controlled social situations with positive reinforcement, you'll be able to train your dog to interact with others calmly and confidently. Training a rescue puppy rather than an adult dog is generally easier. A puppy is still developing social skills and is less likely to have had as many negative social experiences. That being said, puppies are smaller and instinctively more vulnerable, so they may be frightened by large groups of people.
Top
Getting Started
Before you start socializing your dog, ensure they've visited a vet to get their vaccinations and a microchip. While socializing your pup, they'll come in contact with lots of people and dogs, so vaccinations stop your puppy from catching or spreading any diseases. 
Get a well-fitting collar and leash for your pup, and keep them on the leash whenever they socialize to begin with, so you have more control of your dog's reaction to different people and animals. 
Whenever socializing a puppy, especially a rescue, never use negative reinforcement. Yelling at your dog will just make them more fearful and anxious, and they become untrusting of you. Try to be confident in your directions, as your dog will pick up that there's no reason to be nervous. Regardless of the outcome of a social interaction, don't scold your puppy and ignore any negative behavior so your pup knows right from wrong.
As a rescue puppy is likely to be extra skittish, start any social interaction in a quiet place they feel comfortable. This safe space can be somewhere they visit regularly or even your home, as long as they aren't protective of their territory. 
Finally, it's essential you watch your dog's body language for signs of fear and anxiety. Walking backward, having their tail tucked between their legs, flattened ears, and shaking are all common signs your dog is unhappy. If you notice any negative body language, remove your dog from the social situation to avoid creating more stress for your pup.
Top
Find
Find a quiet space where your puppy feels comfortable that you can use to socialize them.
Socialize
Allow one dog into the room along with their pet parent.
Distance
Keep the two puppies at a distance, so your dog can get used to the presence of another dog or person. Praise your puppy for staying calm.
Interact
Allow the two puppies to get closer and closer, watching your dog's body language to ensure they aren't feeling overwhelmed.
Reward
After a successful social interaction, reward your puppy with praise and treats. Ignore any negative behavior. If your puppy doesn't eat the treat, it may be because they're nervous eating around others. If so, increase the distance.
Increase
Increase the frequency slowly over time that your puppy interacts with new animals, and increase the number of other dogs after several successful interactions.
The Positive Reinforcement Method
Walk
Walk your puppy every day in a quiet area close to your home. Avoid dog parks or areas popular with walks, so you don't overwhelm your puppy.
Restrain
Keep your dog on a leash, so they don't run up to other dogs or people and display aggression. You should also try to keep some distance from other people, so your dog doesn't get frightened.
Ignore
If your dog barks or pulls when you walk past another person or dog, ignore their behavior so they don't get mixed signals.
Reward
If your dog ignores the presence of other people and/or dogs, give them lots of praise and a treat for a job well done.
Repeat
After your dog successfully ignores other walkers and doesn't display any signs of anxiety or aggression, allow them to get closer and take them walks in different areas.
Increase
Increase the number of interactions and decrease the distance between your dog and others by walking them in busier areas. Continue to watch their body language, reward good behavior, and ignore negative behavior.
By Adam Lee-Smith
Published: 05/05/2021, edited: 05/05/2021
---