How to Train Your Dog to Understand Hand Commands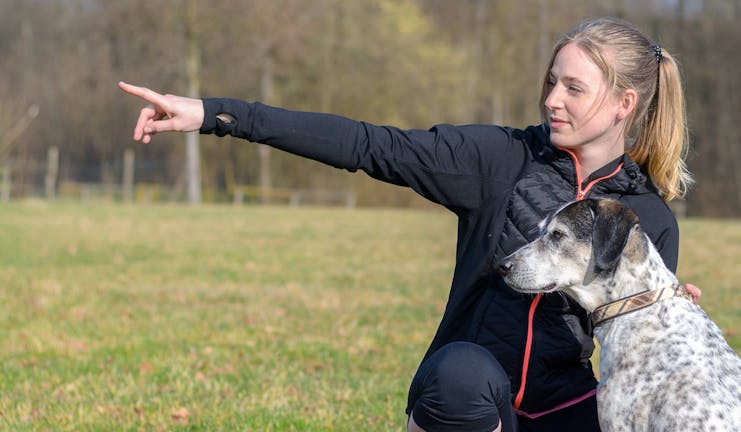 Introduction
Training dogs has, for a long time, been namely attributed to the use of verbal commands. Things like 'sit' and 'stay' are commonly used by both owners and trainers alike, as dogs have a keen sense of hearing and are very eager to perform behaviors associated with certain sounds, if it will give them the appropriate reward. Demonstrated most notably by physiologist Ivan Pavlov in the form of conditioning a dog to salivate when ringing a bell, using a dog's hearing is sometimes the easiest way to get them familiar with a command.

But dogs are not just great at hearing. Their visual understanding can also be exceptional. Dogs can quite frequently learn obedience without the use of verbal cues at all! Instead, many dogs rely solely on hand signals from their owners or trainers, making obedience a much more silent affair. With the right temperament, however, this tactic can be just as effective when teaching your dog to be well-behaved.
Top
Defining Tasks
Teaching your dog to follow hand signals can come in handy for any number of reasons. One of the more common ones is its usefulness to dogs who are deaf or hard of hearing. Using visual cues instead of verbal ones can help those dogs learn obedience and become just as adept at following commands.

However, your dog doesn't need to be hard of hearing for you to utilize hand signals. Whatever the reason is, hand signals remain a valid method of training for any dog and can be used whenever you decide to start obedience training. It may be easier to start with hand signals from the beginning of obedience, and may take less time for your dog to adjust, but even a dog who is familiar with verbal commands can transition in just a few weeks as long as you provide ample opportunities to practice.
Top
Getting Started
Before you start, take some time to predetermine what types of hand signals you'd like to use for what commands. These can differ from trainer to trainer, depending on how comfortable and easy to utilize they are, but in order for your dog to become familiar, these signals will need to remain consistent throughout each training session.

For every method, you'll need to have a reward in the form of a treat or toy to mark good progress with each command. For the target method, you'll need to find an item for your dog to target such as a plastic lid or another similar object. Set aside small sessions of ten to fifteen minutes each to practice and determine which command you will focus on with each session. Be patient, consistent, and ready to reward at all times!
Top
Work on one command
Focus on one command at a time. Determine beforehand which one you will work on with your dog and dedicate the entire training session to it.
Hold a treat near your dog's nose
Grab your dog's focus on your hand by holding the treat where he can smell it.
Guide your dog into position
Depending on the command you are teaching, guide him into it with one hand and with the other, use the hand signal you want to use alongside the action. For example, a 'down' would require you to lure him towards the ground with the treat in one hand and then perform your hand signal for 'down' with your other hand.
Reward
As soon as your dog is in position, reward him with the treat.
Repeat
Practice this command several times, using the hand signal each time.
Remove the treat
Get rid of the lure gradually, using it to lure your dog every other time, then every third time, and then randomly. Eventually, your dog will recognize the hand signal on its own without the lure.
Find a target object
Many people like to use a plastic lid or something similar in shape to teach targeting. Encourage your dog to investigate this item and reward any time she uses her nose to do so. Repeat several times. This is a simplified way to teach your dog how to target an object.
Use the target to guide
If you'd like your dog in a 'heel' position, use the target object in the hand gesture or motion that you want and encourage your dog to target it at its resting point. Reward when she is in position and has targeted appropriately.
Practice with the target
Repeat this until your dog is heeling reliably with the motion of the target object.
Wean off of the object
Start using the target object only every other time you practice. When you're not using the object, use your hand instead, in the same motion as the target object. Reward enthusiastically once your dog performs the same behavior.
Go back a step if necessary
Your dog may get confused without the guidance of the object. Don't worry if you have to bring it out once again to get more practice in. Just be patient.
Remove the object altogether
Eventually, you should be able to use the hand motion and have your dog go into the appropriate position without the use of the object. Reward generously in the beginning stages of this and wean her off of the treats as you progress to mastery.
Use your preferred hand signal
Focus on one command and perform the hand signal to your dog. He will not know what this is at first, but it will set him up to recognize it after some practice.
Use the verbal command your dog knows
Since the purpose of this method is to switch your dog from understanding a command verbally to non-verbally, you will still need to use the verbal command in the beginning stages. Be sure to say it immediately after giving the hand signal.
Reward as necessary
Offer your dog a treat for performing the behavior and repeat the process with the hand signal three more times.
Remove the verbal command
The next time you give the command, use only the hand signal. Reward generously if your dog responds appropriately. You want him to really understand what you want.
Go back to using both if needed
If your dog doesn't respond to the hand signal on its own, repeat your earlier steps by using both the hand signal and the verbal command together. Then try the hand signal on its own once again. Repeat as necessary and reward for positive progress.
By TJ Trevino
Published: 01/15/2018, edited: 01/08/2021
---