How to Train Your Dog to Use a Doggie Door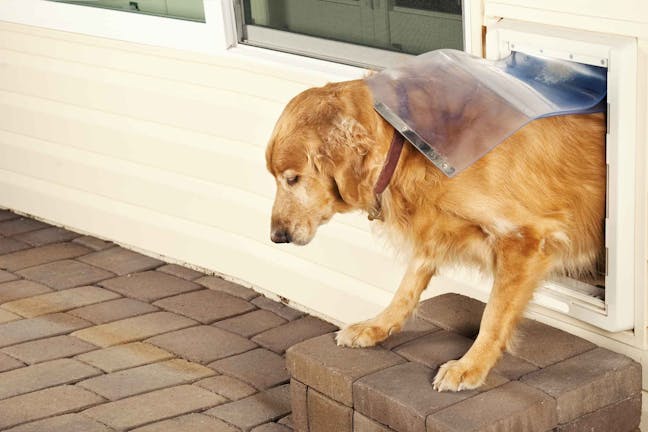 Introduction
It's 7 AM on a Saturday morning, the time you would normally get up on a workday. Your dog is awake and wants out to the bathroom, but you don't have to be up for another 2 hours! Unfortunately, you don't have much choice, unless you want a puddle of puppy pee on your floor. Out of your warm comfy bed you crawl, stubbing your toe on a chair and shuffling to the door to let your pup out. You are a good pet parent, though a prematurely awake pet parent.  
What if your dog could let himself out? That would be great, but short of him developing opposable thumbs, your best solution is to install a doggie door and train your dog to use it! No more getting up early when you don't have to, no more getting up off the couch in the evening when you've curled up in front of the TV with a bowl of popcorn. Your dog can come and go as he pleases, even when you're not home!  A great solution for all, that is, if your dog uses the doggie door. You would think your dog would be super happy about his new found independence, but most dogs need to be trained to use the door, as it can be confusing at first. Some dogs that are fearful of the door and the sensations it presents need extra training and encouragement to help them overcome their reticence.
Top
Defining Tasks
Going in, and out, of a doggie door requires some behaviors your dog may not have experienced before, and that can be frightening or confusing for him. To use the door, your dog needs to approach what looks like a solid wall, which is strange to your dog, and push the door with his nose or head. As he pushes his body through, the door will run across your dog's back and sides. This can present uncomfortable sensations for some dogs that are timid about having their bodies touched, and the process can be difficult for some dogs to grasp. If your dog is new to the dog door, or if your dog is confused or afraid, you will need to spend some time training him how to use the doggie door. It is important never to force a dog through a doggie door, as this will only cause fear and result in your dog avoiding the door in the future. Training your dog to use the doggie door should be a positive experience, you can make it a fun game, provide rewards, and help your dog overcome any fear or confusion so that using the dog will become a confident doggie door user!
Top
Getting Started
If it is possible to expose your dog to the hole created for the dog door during installation and allow your dog to go in and out of the opening at this time, this can be very helpful in establishing the location as an exit and entrance between your dog's indoor and outdoor world. Also, using a light cloth or paper in place of the door flap temporarily during training may be useful. Good, strong duct tape to hold the door up during training is also useful to establish the area as a good entrance and exit. Additionally, having an assistant and lots of treats in hand, or a favorite toy, will help teach your dog to use a doggie door. Some people use a leash to help guide their dogs through the door the first few times. If you have a friend with a dog that knows how to use a doggie door already, you can have that dog model the behavior. 
Make sure the doggie door s the appropriate size for your dog.  If it is too large, your small dog may have trouble using the flap. If it is too small, your dog may be afraid of getting trapped or stuck. Also, the door should be the appropriate height on both sides for your dog to step through and land from. You can also use clicker training to capture using the doggie door and reinforcing the behavior, which is especially helpful if your dog is familiar with clicker training.
Top
The Acclimatize Slowly Method
Provide a large opening
Before the dog door is installed, after the hole in the wall has been cut, put your dog outside with access to the inside of the house through the opening. Alternatively, if the door is already installed, tape it up, or fasten it, so that the door is wide open.
Allow access
Let your dog get used to going in and out through the opening.
Open part way
Put the flap down once the door is installed and your dog is used to using the opening to go in and out. Go outside with your dog inside, lift the flap part way, and call your dog.
Reward for use
When your dog comes through the partially open flap, praise him and reward with outside play.
Increase difficulty
Repeat leaving the flap closed more and more each time you encourage your dog through, eventually holding up just a corner of the flap to encourage your dog through. Your dog will have to push part of the flap to access you.
Practice and encourage
Continue encouraging your dog. Practice from inside and outside.
Practice with flap down
When your dog is comfortable pushing on the flap, and the feeling of it touching him as he goes through the door, leave the flap down and call your dog from the other side, your dog should now be able to manipulate the doggie door flap to proceed through.
The Lure Through Door Method
Motivate with a treat
Have high value treats, with lots of odor, like hot dogs, sausage, jerky, etc. Let your dog see and smell the treats, get him motivated.
Motivate with location
Determine whether your dog would be more excited about going inside to get a treat or outside, which area does your dog prefer? Go to the area your dog would be more motivated to access, with treats in hand, leaving your dog on the other side of the door.
Lure with treat and door open
Lift the dog door and call your dog, present the treat, talk in an excited voice. Encourage your dog to come through. Hold the treat in the doorway entrance.
Reward
If you dog balks, be patient, do not give the treat until he comes through. When your dog comes through, give him the treat and lots of praise. Repeat, practice until your dog is comfortable going through when you lift the flap and lure him through.
Lure with flap partially open
Now lift the flap only half way up, encourage going through, holding the treat in the doorway and luring your dog through. Reward with treat when your dog follows your hand and the treat through the doorway.
Increase difficulty
Lift just a corner of the flap up, lure with treat, reward if your dog pushes through the flap. If your dog is confused, or scared go back to previous step and practice some more, lifting the flap part way, try again asking your dog to move the flap on his own later. Keep sessions short and always end on a success even if you need to help manipulate the flap for your dog to come through.
Leave flap down
Leave the flap closed, have the treats on the opposite side and call your dog. When the dog manipulates the flap on his own to reach you and the treat, reward.
Remove treats
Gradually wean your dog off treats. Let your dog start using the door without providing treats, just praise him.
The Capture and Shape Method
Reinforce approach door
Wait by the doggie door with a treat and clicker. Hold the treat over the doggie door to encourage your dog to approach the door. When your dog is right next to the door, click and treat.
Reinforce touch door
Wait for your dog to inadvertently touch the door with his nose or investigate the doggie door click and treat, repeat.
Reinforce push door
Require your dog to push on the flap with his nose, before your click and treat, repeat.
Reinforce progression through door
Have an assistant on the other side of the door to encourage your dog through at this point. Continue to require progressive steps manipulating the doggie door, wait for your dog to put his head through the door, click and treat each progression through the door.
Reward
When your dog goes all the way through the door, click and have assistant on the other side provide a treat and praise and play.
Practice
Practice both ways with an assistant, clicking and treating your dog for successful use of the door.
Remove reinforcemnt
When your dog is comfortable going through the doggie door, remove the assistant, clicker and treats, encourage your dog through the door, provide praise.
By Laurie Haggart
Published: 10/26/2017, edited: 01/08/2021
---