How to Train Your Dog to Use a Leash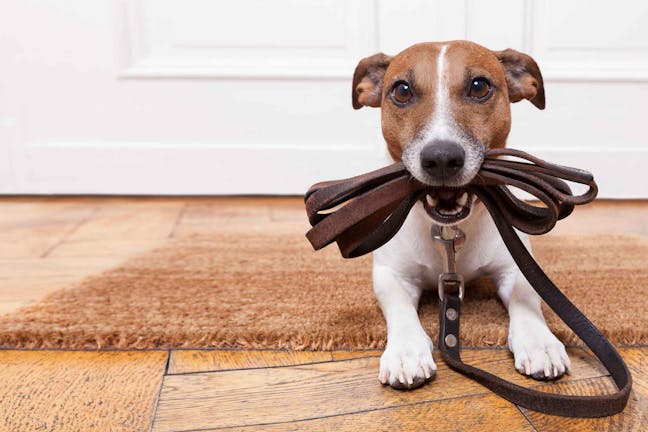 Introduction
Your puppy is still a cute little ball of fur, but now he needs to learn to brave the outdoors and walk with you while on a leash. Except when you try to put on the leash, he goes berserk. He doesn't know what this peculiar long bit of string is, and when you do get it on him he either refuses to walk at all or pulls you in every direction. Not getting the point of the leash might have been cute to start with, but you're quickly getting fed up so he needs to learn fast.
Most people don't realize that dogs often need training to use a leash to start with, but it's a lesson we all learn swiftly. If you can train him to use a leash properly then your walks will be stress-free and relaxing.
Top
Defining Tasks
"Walkies."
It's one word that turns many dogs into crazed and over-excitable creatures. Training your dog to use his leash calmly isn't always as easy as one might hope. You need to motivate him to stay calm and incentivize him to behave when he's on his leash. If he's a puppy and the concept of the leash is new to him, then he may need a week or two to adjust. If he's had years of messing around and refusing to use his leash properly, then you may need up to a month before you break the bad habit.
Get this training right though, and you'll be forever thankful you stuck with it. The leash is an essential part of leaving the house and coming into contact with other people and dogs, so it's worthy of your time. He won't pull, he'll quietly and patiently wait for you to secure him to his leash and the word 'leash' won't ever conjure up headaches.
Top
Getting Started
Before your work can begin you'll need a few bits. As you can imagine, a leash will be the first requirement. You may also want to invest in a body harness to reduce the strain on his neck. Treats or his favorite food will also play an essential role during training.
Make sure you have a few minutes each day to commit to training, plus ensure you have a quiet outside space you can practice in. A quiet field or a yard should suffice.
Once you've checked that all off the list, you just need to be patient and come with an optimistic attitude and then you can get going!
Top
The Constant Approval Method
Put him on the leash and then take it off
To start with you need to ensure he will wait calmly while you secure him to his leash. Hold a treat out in front of him to keep his attention on you. Then when the leash is secured, let him have the treat. Wait a few seconds and then take it off. Once the leash is off, give him a treat again. Practice this a few times for the first couple of days.
Time to walk
He now knows whats expected of him when you put him on the leash, so he should behave for at least the beginning. Once he's on the leash, head out the door. As you walk, give him verbal praise and hold a treat by your side at his head height. The idea is to reward him for as long as he behaves and walks calmly next to you.
React swiftly
Keep using the treat and praise to keep him on side, but as soon as he starts to pull or misbehave, react promptly. Turn around and give him a quick pull so you set off walking in the opposite direction. This jerk will signal to him that if he misbehaves he gets yanked away from where he wanted to go.
Be consistent
It's vital you are persistent during the first couple of weeks. If you have days where he misbehaves and you don't correct the behavior, you'll delay the end result. Also, if you don't use treats and praise to reward him the whole time he is behaving, he may stop bothering.
Slowly lose the rewards
Wait a number of weeks, until he is calm the whole time he's on the leash, from the moment you go to secure him to it until the walk is finished. At this point, he knows how to behave and you can slowly cut out the treats and rewards until they're no longer needed.
The Gradual Introduction Method
Leave it in his bed
This may sound bizarre, but before he starts using the leash he needs to be comfortable around it. Leaving it in his vicinity for a couple of days will make it smell like him and put him at ease.
Secure him to his leash
Calmly and quietly have him sit in front of you and then secure him to his new leash. Once the leash is on, give him a treat and verbal praise. It's important you keep things as calm as possible, the more excited he gets, the harder he will be to control.
Walk around the house
For the first couple of days, you need to practice simply walking around your home with him on the leash. Here you will be able to control his environment and there'll be less distractions. Hold him on a short leash so he has to stay right by your side.
Head out the door
After a couple of days, follow the steps above but this time go out for a walk. Again, keep him next to you on a short leash. If he starts to pull, stop walking and wait for him to get back in line. You can verbally praise him as you walk to keep him on track and to reinforce the right behavior.
Consistency
The key is to keep him on a short leash and then gradually extending it when he behaves. When you can leave the leash lax and he walks calmly next to you, your work is done.
Secure him to his new leash regularly
Leashes can often send dogs into overdrive, so you need to get him comfortable and calm with it. That means securing him to his leash when you're in the house and letting him carry it with him everywhere he goes. It soon won't be exciting, it will just be there.
Play with him half an hour before a walk
Before you head out, get some of that energy out by playing tug of war. If he's not quite so energetic when it comes to the walk, controlling him will be far easier.
Be firm
When you do secure him to his leash and head out for a walk, pull him firmly to your side. Don't give him any slack to start with. You need to lay out the rules from the start.
Keep him focused
All walks should be thought of as training sessions until he can walk properly on the leash. That means keep his eyes on you with quiet praise and using the odd treat.
Positive reinforcement
The entire time he behaves on the leash, give him verbal praise and tasty treats. He will soon associate calm behavior with handsome rewards. When he does misbehave on the leash, stand still until he gives you the behavior you're looking for. Keep up these steps consistently and he'll soon know nothing else but obedience. When he gets the hang of it, gradually cut out the treats.
By James Barra
Published: 11/02/2017, edited: 01/08/2021
---