How to Train Your Dog to Use a Ramp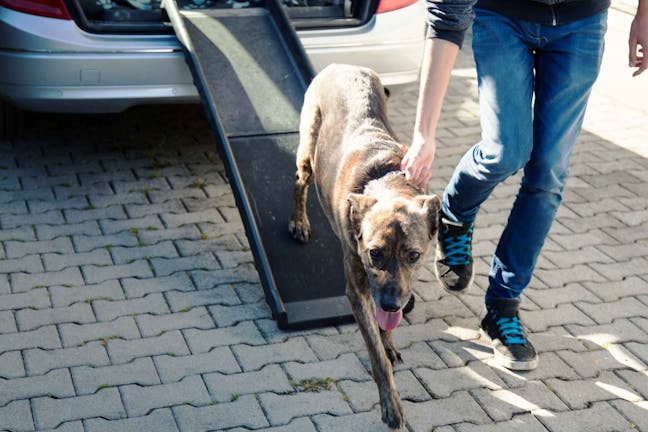 Introduction
One of the hardest things about your dog growing older is watching him struggle to do many of the things he used to do as a young dog. Things like being able to hop into the back of your SUV or pickup truck. To make it possible for your dog to continue doing the things he loves doing, like going for rides with you, a good quality set of ramps can make all the difference in the world. The best thing about ramps is that they are designed to fold up, so you can take them with you.
As you look at the different types of ramps on the market, choose one that has a non-skid surface so your dog won't slip going up or down them. This will help to make your pup feel much safer, help build his self-confidence, and make the training go much easier. Also, be sure that no matter which method of training you choose, you use plenty of positive reinforcement. 
Top
Defining Tasks
Getting your dog to walk up a ramp may not seem like a big deal to you, but to your dog, it can be very scary. The ramp bounces with every step he takes, it's narrow, sloping, and completely unfamiliar. This means he is likely to balk the first few times you try to get him to walk up it. However, if you do your job right, it won't take long before your pup is bounding up and down the ramp with wild abandon.
Your pup is a pretty smart guy, it won't take him long before he figures out that going up and down his own personal ramp is his ticket to being able to go for rides with you once again. Typically, this type of training is reserved for older dogs, but you can also start "ramp training" when your dog is a pup and can't yet jump up into your vehicle. 
Top
Getting Started
You can choose to start teaching your dog when he is still a puppy and can't even reach the bumper of your vehicle, let alone jump up inside of it. Or, you can wait until he has reached an age at which he is visibly struggling to do so. The choice is yours, but if you can, start this training as early as possible, as teaching things like this is much easier when your dog is young. You will need a few things, including:
Treats: You need them to entice and reward your dog when he does what's expected of him.

Ramp: Choose one that has a non-slip surface for the safety of your pup.

Leash: You may need this depending on the age of your pup and the type of training you choose. 

Some blocks: To increase the incline of the ramp during training.

Time: It will take a few weeks for your dog to master this skill.

Patience: No matter how long it takes, never become impatient or give up. Your pup will learn when he is ready.

The big thing here is to ease into the training rather than jumping in with both feet. This will make it much less stressful for both you and your pup and ensure the training is a roaring success. 
Top
Lay out the ramp
Find a spot in the yard or, better yet, in your house to lay the ramp flat on the floor.
Leave it alone
Leave the ramp alone, ignore it, and let your dog get used to it. He will sniff it, look at it, touch it, and finally when he steps up on it, say "good boy" and give him a treat. This part may take a few days, depending on how adventurous your dog is.
Follow me
Hook your pup to his leash and walk along the ramp from one end to the other, encouraging him to follow you. If he won't at first, try holding a treat out to encourage him to do so. When he does, be sure to praise him and give him the treat.
Put the ramp up
Take the ramp outside and put it on the back of your vehicle in the position it will be in for your dog to walk up it. Let your dog see the ramp in place. Encourage him to take one step on it using a treat.
Move the treat
Move the treat halfway up the ramp, your pup should follow the treat. When he has all four paws on the ramp, praise him and give him the treat.
All the way
Take another treat and place in the back of your vehicle. Encourage your dog to follow the treat into the vehicle. When he does, praise him and give him the treat. If at any time he falls or jumps off the ramp, simply go back the end and start again. It may take several attempts over a few days for him to get comfortable with it, but before you know it, he will be bounding up and down the ramp.
Lay the ramp
Lay the ramp on the ground or floor so that it won't slide and is stable. Leave it there and let your dog get used to it.
Lead him across it
Using a treat attempt to lure him across the ramp. As soon as he puts a paw on the ramp, give him a treat.
Paws for the cause
Then when he puts the second paw on the ramp, give him another treat. Move the treat to the center of the ramp, when all four paws are on the ramp give him the treat. Repeat this until he is comfortable walking across the ramp.
Add incline
Using blocks or bricks, give the ramp a little incline and work with your dog walking him up and down the ramp. Give him treats each time he does so successfully, slowly increasing the amount of incline until it is at the height needed for him to get into your vehicle.
Cut back on the treats
While you need to use treats each time at first, over time start cutting back on the treats until he no longer needs them, but will instead go up and down it on his own. Now the two of you can go anywhere anytime you choose.
The Rapid Training Method
Ignore the ramp
Start by laying the ramp in a convenient location in your home. From this point on, your job is to completely ignore the ramp. Don't look at it, don't go near it, simply pretend it doesn't exist and go on with your daily routine.
Let him check it out
It won't take long before your pup starts to check out the new ramp from a distance.
Bring him in closer
Now place a few treats on the ramp in such a way as he has to get on the ramp to get them. Praise him when he does. Do this for a few days until he has no problem with the ramp.
Use the couch
Next, place one end of the ramp on your couch after you have removed the cushions. Line the ramp with treats and using a leash encourage your dog to walk up the ramp. Turn your pup around at the top and have him walk back down. Give him more treats and tons of praise. Repeat this until he will walk up and down the ramp without the need to line it with treats.
Get to the vehicle
Take the ramp outside and put one end of it on your vehicle in the loading position for your dog. Using a short leash and, standing beside the ramp, encourage your pup to walk up it using treats. Repeat this process until your pup will walk up and down the ramp without the need for treats.
By PB Getz
Published: 11/10/2017, edited: 01/08/2021
---