How to Train Your Barn Dog to Use Crate Manners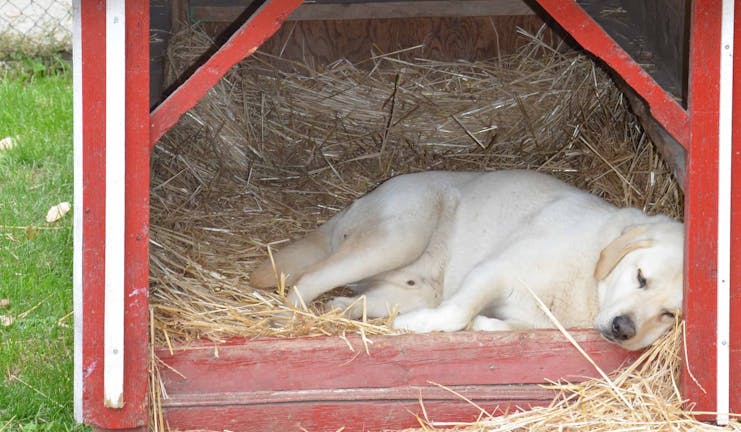 Introduction
Your barn dog may never have seen a crate before. She may never have had to sleep anywhere specific, but been free to wander in and out as she pleased, chasing off unwanted critters as needed. Similarly, it may never have mattered before if your barn dog didn't get along with guests, or if she sometimes chewed on the wood in the barn. Now, however, you may be moving your barn dog into your home, for any number of reasons, and you would like her to use a crate. She may be terrified of the crate, or howl or fight her way out like a caged wild animal when closed inside. You think, "How will I ever keep this dog in my house? What if she attacks the front door or the wall when I leave, like she does the crate?" Perhaps your dog is aggressive with guests, and you wonder how you will keep her separate if she acts like that when she is put in her crate.
All dogs like a safe, comfortable den to nestle away in to sleep, nap, or chew on a favorite toy. Your barn dog probably had a favorite place in her barn, or maybe under your porch. Training your barn dog to use crate manners is simply a matter of translating the pleasure of settling into a favorite nest place to the crate.
Top
Defining Tasks
Training your barn dog to use crate manners depends on teaching her two essential things: first, that the crate is her special place and second, that she should go to her place when asked and stay there until asked out again. For dogs that are frightened of being put in the crate, training with an open door policy at first is a great way to build confidence and comfort with the space. It may take a good deal of patience to teach your barn dog crate manners, especially if she has had a lot of freedom for a long period of her life. In the end, however, your dog will find that the tradeoffs of more time with you, new experiences, and new goodies are worth the confinement and temporary restriction of freedoms.
Top
Getting Started
The most important tools in crate training your barn dog are, of course, the crate and bed. The crate should be large enough for your dog to stand up fully and turn in a circle easily. In general, the larger the better, unless you find you have a problem with your dog having accidents inside the crate, in which case you may need to use a slightly smaller crate. The bed should be as thick as possible, and made of therapeutic memory foam if for older dogs. It is useful to have a waterproof lining around the padding, under a cover, in case of accidents. Put a fluffy blanket in the crate on top of the bed, so that your dog will have the satisfaction of scratching up her own bed without bothering the bed underneath. Fill the crate with lots of chew toys and food and treat dispensing toys, as well as stuffed toys and whatever your dog likes best, to make it as pleasant a place as possible. It is convenient if the bed stops slightly short of the edge of the crate, so as to make a place for toys and a sturdy water bowl on the crate pan. It is a good idea to cover the crate partially with a blanket, so as to make it feel more denlike.
Top
The Good Things in Crate Method
Stock the crate
Put all kinds of great things in your dog's crate, including natural and artificial chews, food dispensing toys, etc. Put most of the stuff far back so your dog has to go fully into the crate to get it, and scatter a few chews around the entrance to entice your dog in.
Introduce your dog
Let your dog into the room with the crate. Situate yourself close to the crate so you can enforce the rule.
Good stuff in the crate
Your dog will eventually go into the crate to investigate the good smelling stuff inside. Be careful not to react at all, so as not to startle her.
Can't take it out
Your dog may settle down right away to eat and play, or she may try to take something out right away. Whenever she tries to take something out, reinforce that she needs to stay in the crate if she wants the thing. If she drops it, she can come out.
Begin closing the door
When you need to do something else, close the door so your dog can't go in. Make sure she has water and another bed, but no goodies outside the crate.
Let your dog in the crate
Let your dog in the crate. She should be excited to go into her stuff. Once she's in, lock the door. Open it frequently to offer for her to come out if she wants--without any of her things.
Build up time
Keep building up crate time. Your dog should be excited to get to her goodies and not mind even as she spends hours locked in her crate
The Good Things on Bed Method
Crate bed but no crate
This method is best if your dog has an unreasonable fear of the crate. Stock a crate bed as your would a crate, but perhaps with slightly fewer things so you can easily keep track of them.
Go to crate
Teach your dog to go to her crate, or whatever command you want to use for that later, but indicate that it means she should go to her bed. Make sure she doesn't take anything off of her bed.
Introduce the crate
Once your dog is very comfortable with having to go to her bed in order to enjoy her things, put the bed and all the things in the crate. For some time, treat the crate and bed exactly like the bed alone, never closing the door.
Begin closing the door
Begin closing the door for short periods while your dog is inside. Open it frequently to make sure she doesn't want to come out.
Build up time
Keep practicing until you can leave your dog locked safely in her crate for some time.
The Crate Together Method
Get close to the crate
This method depends on teaching your dog to feel comfortable with her crate by associating it with good things and with you, so make yourself as close to the crate as possible.
Encourage your dog to get comfortable
Play with your dog, pet her, do everything you can to make her comfortable with her crate. Give her lots of toys and treats to make her enjoy being in her crate.
Leave for brief periods
Leave your dog for brief periods in her crate, making sure she is entertained when you go.
Teach 'go to crate'
Teach your dog to go to her crate, and then join her when she does, to reinforce the crate as a good place.
Increase time
Increase the time you spend your dog spends alone in her crate, making sure to be gradual so she still likes her crate.
By Coral Drake
Published: 12/28/2017, edited: 01/08/2021
---