How to Train Your Barn Dog to Use Leash Manners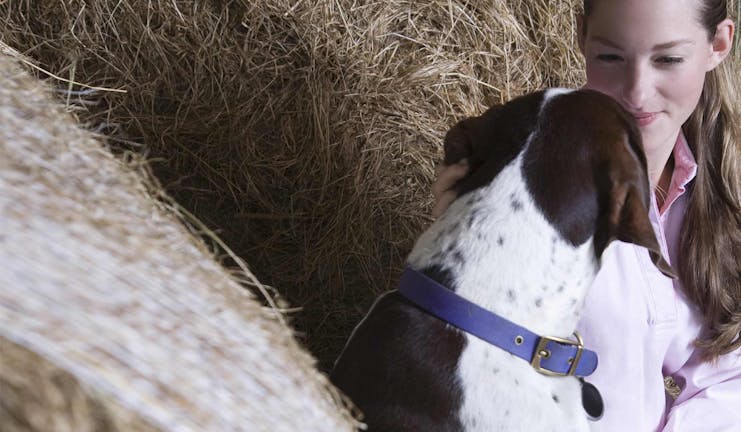 Introduction
Your barn dog may never have needed to wear a leash before. She stays close to home and spends her days keeping watch over your livestock, and it has never occurred to you to put a leash on her. Now you find yourself in a situation in which you need to leash your dog, and you are surprised to find that your typically good-natured barn dog acts like a wild animal as soon as you put a leash on her. Maybe she seems scared of the leash, or maybe she just doesn't understand how the physics of a leash works. One thing is certain, you are not going to be walking your dog down city streets like this.
You may think it is impossible to teach your old barn dog to use leash manners, but teaching her to behave on-leash is really not that difficult. Success will depend on the trust you have built with your dog in the relationship you already have, and transitioning that trust to the leash. By the end of training, your dog will understand the leash as a trusted link to you, her beloved person.
Top
Defining Tasks
Your goal in training is to teach your dog to view the leash as a gentle leader to a new and exciting world. The leash will allow your homebody barn dog to explore a world too dangerous without the active guidance of a trusted human. Training success is dependent on your relationship with your dog, so if you have mostly left your barn dog to do her job on her own in the past, you will need to build trust with her now before exposing her to the new anxiety of leash training.
Get to know your barn dog in a new way by playing with new toys with her, giving her treats for simple tricks and coming when called, and handling her body in trust building ways, working up to handling paws and tail, looking at teeth, etc. All of these activities build the foundation of trust that will be essential in the next steps.
Top
Getting Started
Once you have a foundation of basic trust with your barn dog, begin the process of teaching leash manners by fitting your dog with a comfortably padded and secure harness. Practice taking the harness on and off, giving your dog lots of treats and affectionate encouragement as she adjusts to the new feeling of a harness on her body. As your barn dog becomes comfortable with her new "clothing", pull gently from all directions, making sure the harness won't slip off no matter how your dog pulls. Let your dog wander around a safe place wearing the harness, ensuring that she has free movement. If she tries to roll or rub off the harness, distract her with toys and treats. Practice with the harness until your dog is completely comfortable having the harness taken on and off, and is wearing the harness without trying to remove it, before moving on to leash training.
Top
The Extendable Leash Method
Pull back and reward
Bring your dog's favorite treats or toy and use a leash that can extend a good distance. Let your dog range out the full distance of the leash, then pull back while calling your dog to you. When your dog comes, reward her.
Practice
Practice at this distance until your dog comes reliably without being called, as soon as she feels the pull from the leash.
Shorten the distance
Begin pulling your dog in more frequently, from shorter distances. It should only take a gentle tug to suggest to your dog that she come.
Keep her close
Practice keeping your dog near you. When your dog meets the resistance of the leash, she should naturally bounce back to you. Practice stopping and having her come back to you as well. Reward intermittently.
Practice
Practice until your dog understands that the resistance of the leash should be met with return to you. When she is comfortable, you can change to a neck collar or halter if you like.
Tie your dog to you
Tie your dog to you using an elastic leash attached to her harness, and attached to a comfortable belt or walking aide designed for hands free dog walking.
Walk confidently
Walk confidently forward, allowing the leash to tug against your dog as she moves away from you. When she walks with you without tugging against the leash, reward her with treats or toys and lots of affectionate encouragement.
Keep walking
Walk as quickly as is comfortable for you and your dog, not allowing your dog to pull you, but always directing her confidently and rewarding. Pause for pee breaks intermittently.
Introduce stopping and turning
Practice stopping and turning suddenly, teaching your dog to respond immediately to gentle pulls from the leash
Practice
Practice until your dog is moving easily with you with gentle encouragement from the leash. When you and your dog are comfortable you can switch to a different type of collar or harness.
The Learn from a Dog Method
Find a leash mannered dog
If you know a dog who has good leash manners, she can help your barn dog become comfortable with walking on leash.
Leash the dogs together
Leash your barn dog by chest harness to the back of the leash mannered dog's harness, using an elastic leash.
Walk the dogs
Walk the well mannered dog, letting her lead your barn dog. Your barn dog will naturally fall in line with the leading dog and begin to understand that the tug of the leash reinforces walking together.
Practice and reward
Keep practicing and rewarding both dogs for good walking. Practice stopping and turning. Remember to take pee breaks.
Hold both leashes
Take your barn dog's leash and practice walking her and the well mannered dog directly. When your barn dog is confident walking this way, you can walk her alone.
By Coral Drake
Published: 12/28/2017, edited: 01/08/2021
---