How to Train Your Older Dog to Wake You Up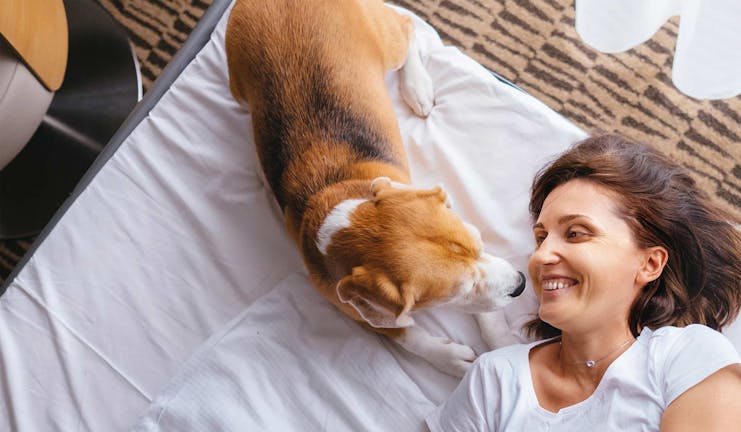 Introduction
Have you ever had trouble waking up in the morning? Many people do. It's difficult to notice when you've woken up to your alarm bleary-eyed and groggy, only to turn it off and fall right back asleep. Sometimes, an alarm is just not enough to keep you conscious. But unlike an alarm, you can't turn a dog off with a simple snooze button.

If your dog is lacking for a job to do around the home and your sleep schedule needs just the right amount of assistance, consider using your older dog's awareness of your daily routine to help you get it better in check. An older dog may be more familiar with your daily schedule and can help be a part of your waking habits and keep you from missing important meetings or dates.
Top
Defining Tasks
Your dog possesses everything he needs to be an effective alarm, whether it's the ability to use his paws, bark, or hop up onto the bed with you at the sound of your usual alarm clock. Your morning routine is a good trigger for your dog to hop into action and with the mental ability required to focus on the task of waking you up, it can also provide good practice in obedience.

Be aware that with an older dog, you'll need to provide an alarm that will have ample volume to reach his ears and he will need to have access to the bed if you'd like him to join you on it in the morning. It may take an older dog some time to recognize what you'd like him to do in the mornings to get you up and ready for the day, but with consistency and repetition and just a few weeks of practice, you'll never be late to another meeting again.
Top
Getting Started
To get started, be sure that your alarm is a sound or a tune that can't be heard anywhere else in your house. It should be something unique that your dog can recognize and should be loud enough that your dog can hear it in case he is in another room.

Next, get some treats together as a reward and head for your bed. Set your alarm for just a few minutes and bring your dog into your room with you. Lay down so he knows what this routine will look like from now on. From there, you can begin your training.
Top
Let your dog wander
Before your alarm goes off, allow your dog to do as he usually does. Don't try to get his attention until the alarm rings.
Call your dog when the alarm sounds
Use your hands to pat on the bed next to you while you call your dog over. Try to avoid letting him hop up onto the bed, as you want him to use his paws instead.
Hold a treat in a closed hand
Let your dog see the treat and then close your fist around it. Wait until he makes an attempt to paw at it to reward him.
Reward for pestering
What is generally known as an annoying behavior can prove to be a very helpful tool in getting you to wake up. Reward your dog for putting paws on you and giving you some taps.
Extend the length of time
Make your dog wait and bug you for longer and longer as the alarm is going off before you reward him. He will learn to be persistent in trying to wake you up.
Repeat with the alarm
Make sure that the alarm is going off whenever you and your dog practice. If your alarm is not sounding, he will not get a treat for pestering you. Only when the alarm sounds will he get rewarded for doing what you want.
Sound the alarm
Let your alarm play loud enough to get your dog's attention.
Pat the bed next to you
As the alarm is sounding, give your bed a few pats while calling your dog over with a treat in hand. Be enthusiastic if she hesitates. You want her to jump up on the bed with you.
Reward for sharing the bed
Offer your dog the treat when she is in the right position that you need to get you up and moving. Be sure that her hopping into bed with you will actually wake you up.
Adjust positioning if necessary
If you'd like your dog to be laying on you, lure her with the treat into the right position and reward when she manages to settle into the right place.
Entice your dog to stay
Offer multiple treats for an extended stay on the bed with you until you get up and out of bed. Remember to only reward your dog when the alarm is playing. No rewards will come when the alarm is not sounding.
Teach your dog to speak
First, you'll want to encourage your dog to speak on command. Find a time when your dog is barking and mark the behavior with a word like 'speak'. Reward him when he speaks on command and continue to practice this behavior from time to time.
Use the alarm as a trigger
Have your alarm sound and then command your dog to speak. Once he barks, reward. Continue to reward as he barks throughout the length of the alarm.
Stop rewarding when the alarm is done
Shut your alarm off or let it run out itself and keep your rewards from your dog. Give him a command like 'quiet' and reward him again when he is silent.
Practice barking and then quiet
Use the alarm as an indication for when you'd like your dog to bark and use the stopping of the alarm as an indication for him to stop. Be sure to reward appropriately for each action.
Be consistent
Be sure that your dog has access to being close by so that you can hear his barking and be sure that your alarm is the only trigger he will bark to. Don't reward for barking without the alarm going off, as soon you'll have a barking dog that barks for no reason!
By TJ Trevino
Published: 01/18/2018, edited: 01/08/2021
---