How to Train Your Dog to Walk Beside Your Bike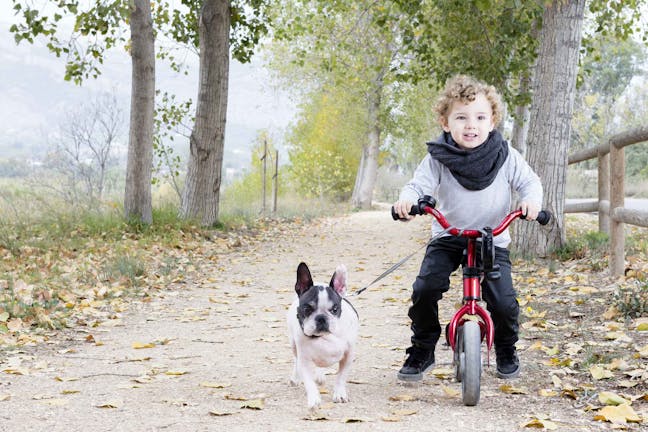 Introduction
Riding a bike is great exercise. Having your dog ride with you is more exercise than he normally gets walking or running with you. Teaching your dog to walk beside your bike will take a little bit of patience and dedication from you both, but once you two understand safety rules and precautions and can do this together, you can explore the world together, get great exercise, and spend great time bonding. Having your dog walking beside your bike with safety in mind first will put your dog in a position where he doesn't pull you over or become entangled in the bike. Teaching your dog to go on bike rides with you with him walking or even running beside your bike can be extremely rewarding for you both.
Just imagine how excited your dog will be when the words, "Do you want to go for a bike ride?" come out of your mouth! If you have the kind of dog is excited to get in a car, he will probably be just as excited to walk next to your bike.
Top
Defining Tasks
Training your dog to walk beside your bike is imperative if you want both of you to be healthy and safe during this kind of exercise together. You need to get your dog used to the bike, how it moves, and how it sounds when it moves. Many bike riders with dogs invest in a specific bike leash which attaches to the bike instead of the rider holding on to the leash. This frees your hands, so you can better control the bike. Take some time training your dog how to walk beside your bike properly away from traffic and distractions, including other riders, until he's used to how it's done. Remember, a dog who is not properly trained to walk beside your bike can become entangled in the wheels or pedals of your bike, stopping you both and potentially causing injury. If your dog is distracted easily and will bolt from you, he can also pull your bicycle down. So be sure you have a dog who knows basic obedience commands and does well walking on a leash before you walk him next to your bike.
Top
Getting Started
To do this training, you are going to need a bicycle that you are comfortable with, which is safe and well-maintained. You will also need a leash for your dog. Though not a requirement, a bike leash is suggested. Again this keeps your hands free to manage and control the bike by attaching your dog to the bicycle and not to you. You should also take some tasty treats with you to reward your dog for a job well done. Be sure you have an area to train your dog that is quiet and free of distractions and dangerous traffic.
Top
Buy a bike leash
A bike leash is a specific kind of leash that attaches to your bike along the frame or slightly towards the back of the bike and enables you to keep your hands on the handlebars and your dog secured to the bike.
Bike and leash
Once the leash is attached to your bike, let your dog walk around your bike and sniff the bike and the leash. Move the handlebars and the pedals around so he can see how the bike moves and hear the sounds it makes.
Walk bike and dog
Attach your dog to the bike leash and walk the bike with your dog walking next to you. This will get him used to how the leash feels, how it feels to be attached at the bike, as well as how the bike moves.
Pedal bike
Once your dog is used to walking on the leash attached to your bike with you walking the bike next to your dog, get on the bike and begin to pedal slowly. Try to do these initial first few rides away from traffic and distractions.
Pace dog
Control your speed and pace your dog.
Verbal praise
As your dog is slowly walking or trotting beside you as you pedal your bike, offer him lots of verbal praise and love.
Finish ride
During these initial training sessions, make your rides short. Before you finish your ride, bring your dog close to home and hop off of your bike, walking it the last several feet back in a position walking next to your dog.
Detach and treat
Take your dog off the leash attached to your bike and offer him a treat with lots of love, excitement, and enthusiasm.
Make routine
Create a routine out of biking with your dog. While you are training keep these sessions short and slow.
Introduce bike
Place your bike in a place where you can push it while walking with your dog on a leash. You may want to lean it up against a fence or tree with the kickstand up so it's in position for quick movement.
Walk dog
Take your dog for a walk on his leash. Pass your bike a couple of times, letting your dog see it and sniff it.
Move bike
After passing the bike a few times and allowing your dog to study it closely, grab it and walk with it besides you with your dog on the opposite side.
Noise and movement
As you and your dog are walking together with your bike beside you, move the handlebars around so your dog can see how the wheels move and what it sounds like. Try to make as much noise as you can so your dog is used to the sounds of your bike.
Skip bike
While you and your dog are walking side-by-side with the bike on one side of you, drape one leg over the bike and put your foot on the pedal low to the ground. Push the bike in a skipping fashion with the one foot on the pedal and one foot on the ground and your dog still leashed to your opposite side.
Two feet
As your dog gets used to your body moving with the bike, very slowly lift your other foot up on the second pedal and begin to slowly pedal the bike.
Pace
Keep a short leash and pace your dog. If your dog begins to run, don't allow him to pull the bike forward, but rather speed up your pedaling. If your dog wants to walk slower, slow your pace to match your dog.
Continue
Continue to practice until your dog is comfortable with you getting on the bike directly without having to walk it first. Be sure to go slow until you trust your dog not to become entangled in any of the wheels or pedals.
Bike leash
Introduce your dog to a bike leash by attaching the leash to your dog's collar and taking your dog for a walk. Go on several walks for a few days using the bike leash before attaching the leash to the bike.
Attach leash
Attach your dog's bike leash to your bike and introduce your dog to the bike. Because he should be familiar with the leash already, he may notice it first and begin sniffing there. As your dog is exploring your bike, turn the handlebars and move the pedals around so he can hear the noise has the bike makes.
Attach dog
Hook your dog up to the bike leash attached to the bike and hop on your bike.
Slow ride
Very slowly, pedal forward moving the bike at a slow pace. As you ride, talk to your dog with an enthusiastic and excited tone to get him excited about moving with the bike.
Stop
Stop pedaling the bike and use commands your dog knows such 'sit' and 'stay' while you have the bike stationary.
Treat
While you are stopped and in a stationary position, offer your dog a treat for a job well done on his first walk with your bike.
Repeat
Repeat these steps, making each ride a little bit longer and pacing your dog's speed.
Exercise
Add exercise to to your bike ride for your dog by going up hills and down hills as well as over speed bumps or through different terrains.
Practice
Continue practicing with your dog until he is comfortable walking or trotting next to your bike. Be sure to treat him at the end of every ride. Once he is used to the bike ride you can increase your challenges and speed for more exercise for you both.
By Stephanie Plummer
Published: 11/27/2017, edited: 01/08/2021
---