How to Train Your Dog to Walk in Boots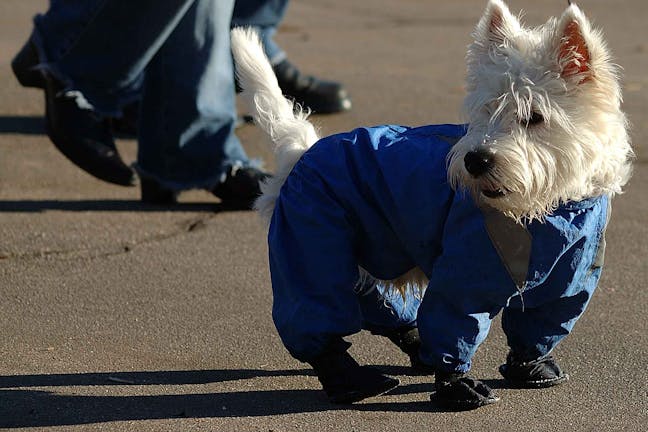 Introduction
When the cold weather hits your neighborhood and the snows begin to fall, one of the first things you break out is likely to be a pair of your favorite winter boots. Why? Because you don't want your feet to get cold, soaking wet, and covered in whatever chemical compound your area uses on the roads. Don't you think your dog deserves the same protection? The good news is that there are many different types of dog boots on the market; they fasten in different ways and come in an incredible range of styles and colors.
The big thing with getting winter boots for your dog is to be sure and take him with you when you go shopping for them. They come in many different sizes, shapes, and styles. Just as buying shoes that fit you is vital in the buying process, it is just as important to your pup. Take your time fitting each paw. Having boots that fit and are comfortable is a vital part of the training process. 
Top
Defining Tasks
This is a two-stage process, each part of which is important to the final result. If you think getting your pup to try on his new boots is tough, wait until you try to get him to stand up and walk around in them. All kidding aside, it really isn't that hard. No matter which training method you decide to try, you have to let your pup get used to having boots on his feet before you try to teach him to walk in them.
As for a command, you can use just about anything you want such as, "time to get your boots on" or simply" boots." It really doesn't matter which one you choose, just be sure to stick to the same command to avoid confusion. 
Top
Getting Started
The first thing in training your dog to walk in boots is the fitting part explained above. It is vital that your pup's boots fit his feet, just like yours fit you. If they are too tight, they will rub and chafe his feet. If they are too loose, they may rub or chafe as well, but they may also be too easy for him to shake off while walking. Before you get started, you need his boots, a pocket full of treats, a quiet place to train, plenty of time, and, of course, tons of patience. 
Top
The Start Out Small Method
Set his boots out
Start by placing his new boots on the floor where he can see, sniff, and get used to them. Reward him when he does.
Slip on and off
Once he is used to being around his boots, try slipping one on a paw without fastening it. Give him a treat and take the boot back off. Repeat for each of his paws.
Tighten them up
Now that he is used to having the boots on his feet, fasten them one at a time so that he gets used to the feeling. Give him a treat. Do this several times, extending his time in boots each time.
Fun time
Now let your pup get up with his boots on and try taking his first steps. Be ready, this is going to be fun to watch. You should start out on carpet, so his feet aren't trying to slip out from under him.
Stepping out
Once you feel he is comfortable running around the house in his boots, you can finally take him outside for his first walk. Take your time and let your pup build up speed at his own pace. It won't take long before he is ready to go for a long hike in the coldest, snowiest weather, safe in the knowledge his feet are warm and dry.
Right shoes first
Take your pup to the pet shop and take your time finding the right boots for him. Try to fit the boots you buy to the type of walking or hiking you plan to do. If you are buying boots to go walking in the snow and wet of winter, look for boots with extra insulation. For long hikes, go for boots with sturdy soles.
All four shoes first
With your pup laying on the floor, put all four boots on his feet and fasten them. Let him lay there for a little while getting used to having them on his feet. Give him lots of praise and a few treats to help take his mind off the fact he has boots on his feet.
Let him up
Now, let your pup up and sit back for the fun. Your pup is going to look pretty silly at first as he gets used to the boots on his feet. Try not to let him see you laughing, you might hurt his feelings.
Around the house
Try taking him for a walk on his leash around the house. Walk over carpets, linoleum, tile, and any other surface to get him used to the feeling and how he needs to change the way he walks.
Your first excursion
Now that your pup has become used to walking around the house in his boots, try to pick a dry day for his first walk. Start out slowly and let him set the pace. You will be surprised at how quickly he picks up speed. From here, the two of you should be ready go anywhere, no matter what the weather.
Standing positions, please
In a carpeted room in your home, have your dog in the standing position. If he is giving you a hard time about remaining in this position, have an assistant help.
Slip a boot
Slip one boot on a paw, leaving it unfastened.
Take it off
Take the boot back off and give your pup a treat.
Three more days
Repeat the above with a different paw each day and try to do so several times each day.
Increase the paws
Continue doing this, but move up to two paws and then three, and finally four paws at a time. Be sure to give him lots of praise and treats for this part.
All four on the floor
Once he is used to having the boots on his feet unfastened, fasten them and give him a treat when he lets you do this.
Out the door
Once your pup is comfortable in his boots and can walk around the house in them, go ahead and take him out for a walk. Let him set the pace until you are both back to normal walking speed. Then enjoy exploring the great outdoors together.
By PB Getz
Published: 10/27/2017, edited: 01/08/2021
---