How to Train Your Young Dog to Walk on a Lead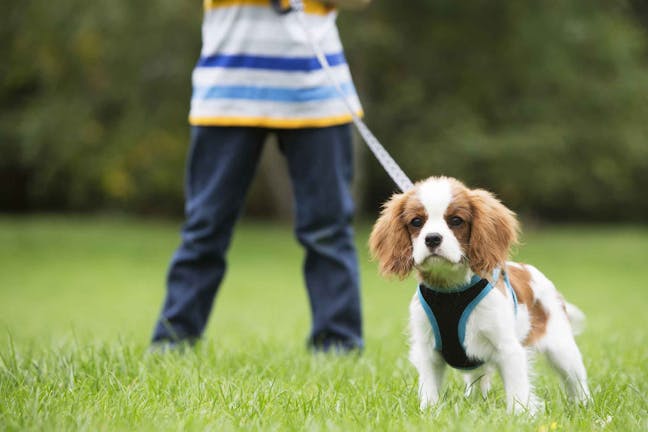 Introduction
He's young, cute and full of energy. He puts a smile on everyone's face, including you, most of the time. You love your dog every second of the day, apart from when you try and take him out for a walk. As soon as you put the lead on him he goes into overdrive. He bounds around and is constantly trying to pull you in every which direction. He simply has no idea how to walk on a lead. While it may seem all fun and games, if he doesn't learn how to walk correctly now, you may have a dog that pulls forever.
Training him to walk on a lead when he's young could save him getting into serious trouble. If he's big and strong he may pull you into the road one day causing an accident, or injure you if you're pulled to the ground.
Top
Defining Tasks
Training your dog to walk on a lead isn't straightforward. It requires constant work and considerable patience. You'll need to follow a number of steps to assert your control on walks. You'll also have to use a number of deterrence measures to stop him from pulling. The good news is that because he's young he should be relatively easy to mold. You could stamp out any bad walking habits and have him toeing the line in just a couple of weeks. However, if he's adamant that he should be in control when he's on the lead, then you may need a couple of months.
Succeed with this training and you'll be able to stroll and relax on walks. You won't have to worry that you'll be pulled in the opposite direction without warning. You'll always be able to keep control.
Top
Getting Started
Before you get to work you'll need several things. A short lead will be required. You may also want to consider investing in a body harness if he's already strong. This will increase your control and reduce strain on his neck.
You'll need a generous supply of treats, or small pieces of his favorite food. You'll use this to motivate him throughout training. You don't need to set aside time to train, you can simply practice training when you go for your daily walk. 
Apart from those things, you just need patience and then you're good to get going! 
Top
Head out
Secure him to his lead and head out for a walk like you normally would. Put him on a relatively short lead to start with. You can also put him in a body harness if he's already getting big and strong.
Stay calm
Don't get him all excited, remain calm. If you get him all worked up it will only be harder to keep control when you step out of the door. Dogs mirror their owners' behavior, so the more subdued you are, the more relaxed he will remain.
Wait
Start your walk as usual. Give him some slack but not more than a few feet. Then keep a firm grip and wait patiently. As soon as he uses up all of the slack, be ready to act.
Turn
As soon as the line goes rigid and he starts to pull, turn in the opposite direction and give the lead a firm pull. This will show him that if he pulls, he won't get to go in the direction he wants. Don't look at him or humor him, simply head the other way.
Consistency
You need to do this every time he pulls, even if it means you're constantly walking back and forth. He will soon catch on and your walks will get a less mundane. So be patient at the beginning, it will be frustrating, but worth it in the end.
The Positive Reinforcement Method
Set off
Put him on a short lead and head out as you normally would. Make sure you have a pocket full of treats. Try not to get him too excited at this point. The calmer he is, the easier he will be to control on the lead.
Treat
Hold a treat at waist height. Keep it gripped firmly in your hand but make sure he knows it's there. You want him sniffing your hand and all his attention focussed there. If he's concentrating on the treat, he won't be controlling the walk.
Reward
After several steps, let him have the treat. Then straight away get another treat out and hold it in the same place. You're gradually showing him that if he walks calmly next to you that he gets tasty rewards. Before he knows it, he'll be in the habit of behaving when he's on the lead.
Increase the time
Over the next few weeks, slowly increase the distance you walk before you give him a treat. As he gets the hang of it you can make him work harder for longer. The goal after a couple of weeks is that you can walk a hundred meters or so before you hand over the goods.
Lose the treats
When he knows what's expected and naturally goes to walk at your side before you've even held out a treat there, you know the finish line is in sight. At this point you can slowly cut out the treats over the next few walks until they're no longer needed at all. You will have successfully broken his wild walking habit.
Set off
Go out for your daily walk. Keep him on a short lead and keep him right by your side. Also make sure you have some treats in your pocket should he deserve them. The smell of them will tell him there's food on the menu if he plays his cards right, so his attention will be on you.
Stop
As soon as he starts to pull and moves in front of you, stand still. Don't shout at him or get annoyed, simply stand still. He will eventually realize you've stopped when the lead prevents him moving any further. Then wait patiently for him to return to your side.
'Heel'
At the same time you stop moving, give the 'heel' command. Give it in a clear but firm voice. You ant him to know you mean business. You can use any word or phrase you like. 'Stop' and 'slow' are other popular choices.
Reward
Once he returns to your side, give him a tasty treat. But don't over-praise him, you don't want to motivate him to pull in the future. Just let him know that coming back to you was the right thing to do.
Repeat
Now do this every time he pulls on the lead. It will be time-consuming and there will be a lot of waiting around to begin with, but you'll be surprised at how quickly young dogs catch on. Once he does get the hang of it, you can slowly cut out the treats and rely on the verbal command alone.
By James Barra
Published: 11/21/2017, edited: 01/08/2021
---