How to Train Your Dog to Yawn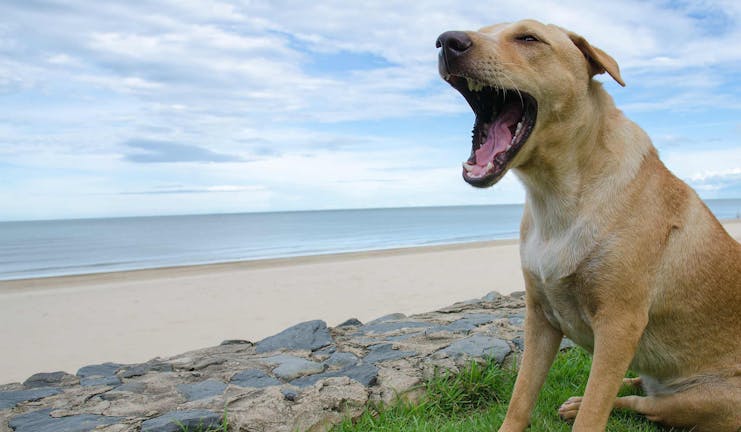 Introduction
Yawning might be contagious amongst people and animals, but it can also make a neat dog trick to entertain friends and family with while strengthening the bond between you and your pup. With a few quick training steps, your dog can learn how to yawn on your command.
While this particular skill, once learned, can amuse any visitors you have over to the house, it's more important as a way in which you can build and improve your relationship with your dog. Because dogs naturally yawn as a form of communication --- generally when they are calling other dogs or feeling confused, unsure, or anxious --- you can capture the moment your dog opens his mouth and begin a training process that will result in a yawn on command. By following one of the training plans below, your dog can master this trick in no time at all!
Top
Defining Tasks
Any skill-based training can reinforce and better the balance between owner and canine. Learned skills, no matter how simple or challenging, will boost your confidence as an owner, and give your dog a clearer understanding of the expectations associated with your command. 
In the canine universe, yawning is a calming signal communicated between dogs. Aside from people, dogs are the only species that yawn contagiously, which makes teaching your dog to yawn an easy task. Shaping this behavior will strengthen the cross-species communication between you and your dog and help you train your dog to master the yawn on command. With the right timing, practice, and patience, dogs of any breed, size, or age can quickly learn this fun trick.
Top
Getting Started
The training options below will require treats or some other form of reward and a clicker, for those owners who are interested in or experienced in clicker training.
Aside from these items, successful training means being patient, consistent, and having a good sense of timing while following these steps. Rely on positive communication with your dog as a means to accomplish this task.
Top
Create the right environment
Dogs often yawn due to anxiety. Prompt your dog to yawn by withholding a favorite toy or ball that he wants to chase. You can also wait until your dog needs to go outside and yawns naturally.
Click and treat
Once your dog yawns, click and treat. Make sure your timing is right so the yawn is "caught" by the clicker and your dog realizes what action earns him the reward.
Name that yawn
Once your dog offers you a yawn, replace the clicker with a word or phrase you want your dog to associate with the trick, such as "sleepy," "tired," or just "yawn."
Be consistent and repeat
Keep consistent and repeat Steps 1 - 3 over a few days' time. Your dog should show signs of picking up on these cues more quickly at this point of training.
Go it alone
After regular work practicing these steps, give your dog the command you've chosen and he should respond with a yawn. Praise and treat him when he does!
Stand or sit in front of your dog
Get your dog's attention by standing or sitting in front of him. Have a treat in hand and show him the treat.
Confuse your dog
Let your dog see the treat but don't allow him to take it. Watch him as he tries to figure out how to get the treat from your hand. If he moves toward the treat, hold it out of his reach.
Wait for the yawn
Wait a few moments. During this time your dog, confused and trying to figure out what is going on, should yawn.
Reward the yawn
As soon as your dog yawns, give him the treat and give a command word you've chosen to associate with the trick. This step is crucial so be on time for it.
Repeat with consistency
Repeat steps 1 - 4 multiple times over a few days. Be consistent with each step, and remember to be patient. It may take longer for a dog to offer a yawn, but when he does, praise and reward him.
Wait for your dog to nap
Take note of your dog when he falls asleep for a nap.
Place treats nearby
Have some treats nearby, in a cabinet or on a nearby table that you can access easily and quickly.
Be ready when your dog awakes
Many dogs will yawn shortly after they wake up. Have a treat in hand and be ready when you see your dog waking up.
Reward your dog for yawning
When your dog first yawns upon awaking, give him a treat and positive reinforcement (say, "Are you tired?", "Yes!" or "Good dog"). Your timing needs to be precise for this teaching moment to work.
Practice regularly
Begin to reward your dog for yawning even outside of naps. Whenever he yawns, have a treat handy, reward, and praise with your chosen command word or phrase.
By Erin Cain
Published: 01/12/2018, edited: 01/08/2021
---