How to Train Your Dog to Stay Inside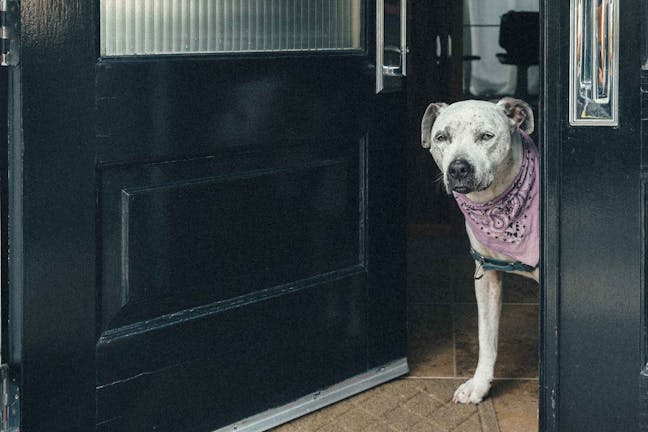 Introduction
You're having construction work done to the house, so the yard looks like a bomb site. There are tools, materials, and a host of sharp and dangerous objects around. Understandably, you don't want your canine pal heading out there and hurting himself. He's also somewhat defensive, so you don't want any kind of altercation with one of the workers. You need to train him to stay inside where he's safe and won't cause any trouble. 
This training will also come in handy if you've just put down grass or planted new and expensive plants. If he gets out there and tramples all over them you won't be best pleased! If the neighbor's dog is always outside barking, then it will prevent the two of them getting into a heated growling exchange. This type of training also helps assert your control, making it easier to teach him a range of other things too.
Top
Defining Tasks
Fortunately, training your dog to stay inside isn't as difficult as you might think. First, you need to encourage him to want to stay inside by making it a fun environment that has all his needs catered for. You will also need to take a number of steps to discourage him from going outside in the first place. If you can do both of these things he'll quickly get into the habit of staying inside and will be happy to do so. 
This training will take far less time if he's a puppy who doesn't have an established routine. In just a couple of weeks, your work may be done. If you're taking outside away from an older dog who's had free rein for many years then you may need to stick to training for up to 6 weeks. Get this training right and you'll never need to worry about him escaping in the yard, or getting into trouble with strangers, pets, and busy traffic.
Top
Getting Started
Before you get started you'll need a few things. An array of toys and food puzzles will be needed to make inside fun and exciting. For one of the methods, you will need an invisible fence system.
You'll need to ensure your dog has a comfy bed that he loves spending time in. Stock up on his favorite food or treats. These will be used to motivate and reward him during training.
You'll also need a few minutes to dedicate to training over the next few weeks. Apart from that, you just need patience and a proactive attitude and you're good to get to work!
Top
The Positive Reinforcement Method
Long leash
Open the back door but secure him to a long leash from inside so he can get close to the back door but not actually outside. Once you've done this, take a handful of treats and position yourself in the middle of the room, some way from the door.
Treat lure
Watch him to see if he goes for the exit. If he does, call him over in a friendly voice and hold out a treat to lure him over. Call his name in a playful high pitched voice. If he can hear you're happy and playful he'll be more likely to make his way over to you.
Reward
As soon as he comes away from the door and heads towards you, give him a treat and lots of verbal praise. Practice this every day but at different doors. Continue to do this until you can call him away from every door. This will slowly drill into him that if he stays inside he gets tasty treats and an owner who wants to give him attention.
Lose the leash
Once he comes over to you straight away, remove the leash and try again. This time stand further away to give him more freedom to go outside should he chose. Again, as soon he heads for the door, call him away. Practice this for a few minutes each day until he no longer heads for the doors.
Correct him
If he does get outside at any point, quickly pull him back in the house. Don't shout at him, you don't want to scare him. Instead silently but firmly pull him back inside. Do this and follow the steps above and he'll soon give up on going outside altogether.
The Invisible Fence Method
Installation
Once you've bought your invisible fence system online or from a local store, you will need to carefully fit and calibrate it. You need to ensure it's fitted around the entire perimeter you want to keep him in. An invisible trip wire will set it off, so make sure they are right across doorways.
Choose a deterrent
Your fence will use a deterrent to stop him breaching the perimeter and going outside. Opt for citronella or water. These will both be unpleasant but they won't terrify or hurt him like an electric shock will.
Boundary walking
Each day, secure him to a leash and walk him around the boundaries of your house. Do this twice a day and you will drill into him where his territory ends. Once he understands that he won't want to go outside anyway.
Observation
After a few days of the leash walking and with the fence in place, let him off the leash and observe him from a distance. Also open a couple of doors to see if he tries to go outside. If he doesn't bother trying to cross the invisible line then your work is already done. If he does test the waters, keep up with the boundary walking each day.
Lose the fence
After a week or several weeks, when he's stopped trying to get outside, you can stop walking him on the leash each day. You can also take down the invisible fence. It will have served its purpose and your dog will still think he'll get an unpleasant spray if he tries to go outside.
Toys
Training him to stay inside will be a walk in the park if he wants to be inside anyway. This means regularly getting him new toys to play around with. You can get cheap toys online or from local stores and they'll keep him content.
Food puzzles
These time-consuming contraptions will keep him entertained and distracted for hours. With plenty of food and stimulating activities to do inside, he won't be fussed about heading outside.
Attention
You must make sure you give him plenty of attention when he's inside. This means spending a few minutes each day playing with him and his toys, and just cuddling him. It's about making sure all of his needs are catered for so he has no desire to head outdoors.
'Bed'
If he does head outside, you need to be able to quickly send him back indoors. To do this teach him the 'bed' command. Stand by his bed, issue a 'bed' command and lure him onto his bed with a treat and by pointing. As soon as he touches the bed, give him the treat. Practice this every day while gradually increasing the distance from the bed when you give the instruction.
Water spray
If you do catch him outside you can also give him a quick spray of water near his face. If he associates going outside with this unpleasant experience he won't want to head out there anyway.
By James Barra
Published: 11/09/2017, edited: 01/08/2021
---