Introduction
The Boston Terrier - he is a ball of energy, yet he is one of the most loyal, loving breeds available today. He is nicknamed "The American Gentleman," and not without good cause! His traditional black and white coat gives the illusion of a tuxedo, and the Boston Terrier was bred and developed right here in the United States! He has quite an endearing personality as well. He is great with children and other pets. He is as much of a lapdog as he is companion during activities. When it comes to choosing a name for your Boston, you will want to take his personality into account. He will be a member of your family for a number of years, so choose wisely.
Boston Terrier Dog Names in Pop Culture
Featured Famous Dog with a Boston Terrier Name
Sergeant Stubby
Sergeant Stubby is the perfect example of everything that a Boston Terrier should be. His name is not only indicative of his size, but it is also a tribute to the courage that exudes from a Boston. Stubby found himself wandering into the training maneuvers of the 102nd Regiment on the campus of Yale University. The boys claimed him, and he served their group with great courage and loyalty. The boys actually hid Stubby on their ship as they deployed to France. Once he was found by the commanding officer of the regiment, Stubby saluted the CO as the boys in camp had taught him, and the officer acquiesced. Stubby's place as mascot was cemented from that day. 
Sergeant Stubby was enlisted as a mascot for his Army regiment, the 102nd Infantry (26th Yankee Division), during World War I. However, Sergeant Stubby was so much more than a mascot. During the first Great War, Sergeant Stubby spent eighteen months on the front lines with his regiment. He was present at seventeen battles, standing shoulder-to-shoulder with his fellow soldiers. During this time, he is credited with saving his unit from surprise mustard gas onslaughts. Injured in a mustard gas attack, Stubby was then fitted with a gas mask. Because he could hear the sound of artillery shells before humans could, he would warn the unit by barking incessantly. He also had a knack for finding the wounded and staying with them until medics arrived. A story exists that Stubby grabbed a German soldier in the seat of the pants and held him until a soldier in his unit could apprehend the man. Stubby's antics were documented in several American newspapers, and stories of his bravery were widely admired by the general public. Stubby was promoted to the rank of Sergeant at the end of his service, and he is also known as being one of the most decorated service dogs of World War I. Stubby earned his rank as well as the Humane Education Society Gold Medal; he also earned a Wound stripe. Stubby was injured in April 1918 when retreating Germans threw hand grenades at the American soldiers; one grenade exploded and wounded Stubby's foreleg. Even then, Stubby was able to boost the morale of the injured men of his regiment. Soon, he returned to his place at the front lines. 

Stubby also spent time as the mascot for the Georgetown Hoyas. Sergeant Stubby is memorialized in a Smithsonian exhibit entitled "The Price of Freedom." Stubby is pictured with his awards in the exhibit. He is the only dog to have ever earned a promotion in rank. 
Boston Terrier Dog Name Considerations
The Boston Terrier has a classic look; should you purchase a traditional Boston, he or she will have a black coat with white markings. However, there are variations to coat color, and this many influence your choice of name. The Boston Terrier may be red, gray, or brindle. Some may have more white markings than others. Names like "Blue" or "Rusty" might be appropriate to match the dog's coat color. Many Boston Terrier owners prefer to name their dog based on the size of the dog. Munchkin, Pipsqueak, or Midget might be apt names for the small Boston Terrier; keep in mind that even as an adult, the Boston generally does not weigh over twenty-five pounds. An owner of a Miniature Boston might even choose the name "Teenie" to describe the small size of his pup. However small, the Boston Terrier has a large personality, and dozens of Boston pet parents use this method to choose a name for their pup. 
Most all Boston Terriers are somewhat hyper, happy, and generous with love. They love to entertain their families, and they are never so happy as when they are at play. Many Bostons are quite tenacious; they do not realize their size, and they are rarely fearful. Some owners may choose names such as Rocky or Rascal to exemplify the hardiness of the Boston. Still others may name their pup Cuddles or Buddy, which is a nod to the idea that Bostons do enjoy cuddles on the couch after a play session. Regardless, the Boston Terrier is a special breed, and he deserves a name which exemplifies his uniqueness. 
Male Boston Terrier Dog Names
Votes
Name
Vote
11

Chewbacca or "Chewy"

Chewbacca is a Star Wars character; it might also refer to the Boston's tendency to chew

8

Bandit

Meaning "a thief", Bostons often steal their owners' hearts

7

Dynamite

Could refer to the hyper personality of the Boston Terrier

6

Dakota

Meaning "allies", can refer to the loyalty of the Boston

5

Angus

Celtic; meaning "exceptionally strong"

5

Avery

English, meaning "elf counsel"

5

Finn

A Star Wars character

5

Gus

Meaning "great, magnificent", the Boston is a magnificent pet

5

Oreo

Refers to the black and white coat of the Boston Terrier

4

Barkley

Could refer to a dog's propensity for mouthiness

4

Bentley

English, meaning "coarse grass meadow"

3

Bodie

Scandinavian; meaning "shelter"

3

Gizmo

May refer to a small gadget, but can also refer to a character in the movie Gremlins

3

Oliver

Germanic, meaning "elf army"

3

Pepper

Usually refers to the dynamic personality of the Boston

3

Rebel

One who defies authority; the Boston can be an independent thinker

2

Banjo

Refers to an instrument; musically inclined owners might choose this moniker

2

Buster

A traditionally popular dog name

2

Rambo

A character in a series of Sylvester Stallone movies in the 80s

1

Artie

English; meaning "strong, noble"

1

Huck

As in Huck Finn

0

Bailey

English, meaning "enforcer"

0

Brody

Gaelicmeaning "muddy place"; some Bostons do like to get out and play in mud

0

Buddy

Often this refers to the companionship of a dog

0

Gordie

Scottish; short for "Gordon"

-1

Astro

Astro, the dog on the cartoon The Jetsons

-1

Blue

Often refers to coat color; there is a "blue" Boston color, although rare

-1

Milo

German; meaning "merciful", can also refer to the movie Milo and Otis

-2

Benji

Benji was a dog featured in several movies in the 80s.

-5

Axel

German, meaning "my father is peace"
Female Boston Terrier Dog Names
Votes
Name
Vote
10

Cinnamon

May refer to the spicy personality of the Boston Terrier

8

Duchess

Refers to royalty

8

Lady

A character from the Disney movie, Lady and the Tramp

7

Dolly

A traditional female name

7

Penny

Of monetary value; most owners highly value the companionship of the Boston Terrier

6

Lola

Meaning "a princess who rules her domain", fitting for the Boston

5

Coco

May refer to a brindle or brown coat color

5

Macy

As in Macy's Department store

5

Ginger

A character from Gilligan's Island; can refer to coat color

5

Maddie

Short for Madison, meaning "one who does not enjoy leaving friends"

5

Honey

May refer to the sweet personality of the Boston Terrier

5

Jasmine

A character from a Disney movie

4

Fancy

Can also refer to the perky personality of the Boston Terrier

3

Abbie

Hebrew; meaning "my father is joyful"

3

Athena

The goddess of war

3

Bitsy

Can refer to the diminutive size of the Boston

3

Buttercup

A flower, or the Reese's buttercup candy

3

Tootsie

Refers to the Tootsie Roll or a movie of the same name

3

Missy

English; meaning "honey bee"

2

Lily

A water flower; also a traditional female name

2

Minnie

As in Minnie Mouse; sweet, wise, and lovable

1

Lulu

Little Lulu was a comic strip character; the name also means "famous warrior"

1

Pippa

English and meaning "lover of horses", this could also refer to the bold personality of the dog

0

Doodle

A cute name for a cute breed

0

Cookie

A sweet treat; can refer to the sweet nature of the Boston

0

Diva

A name that can refer to the commanding personality of the Boston Terrier

0

Nellie

Refers to a character on Little House on the Prairie

-2

Annie

Hebrew; meaning "favor, grace"

-3

Ariel

Refers to the lead character of the Disney movie The Little Mermaid

-3

Teenie

Refers to the diminutive size of the Boston Terrier
Community Dogs with Boston Terrier Names
Clark
Male
Boston Terrier
Downers Grove, IL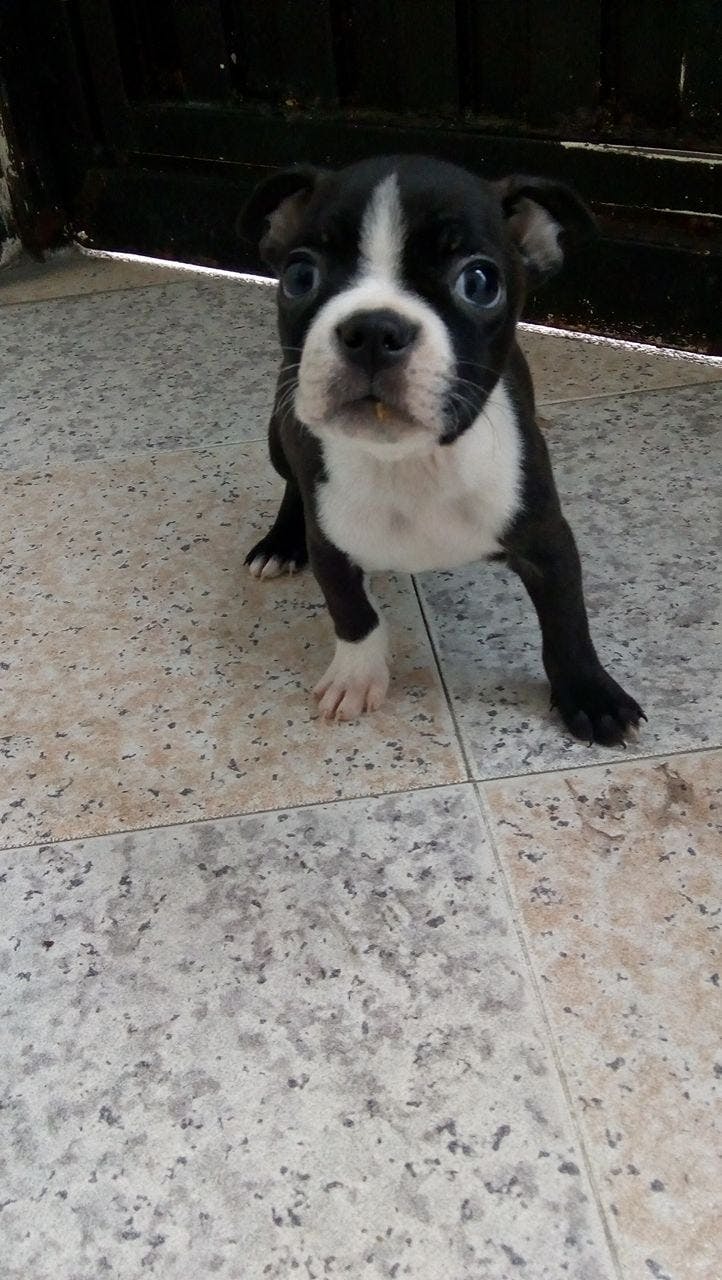 Emma
Female
Boston Terrier
Boston, MA
Prince
Male
Boston Terrier
Millsboro, DE
He is always so sleepy and is spoiled like a PRINCE!
Butch
Male
Boston Terrier
Cincinnati, OH
For starters he was born in Ohio. The people for whatever reason didn't want to keep him. My Mother had owned two females in the previous 20 years, she had females. She took him because he was free & her last dog had died. His name was Buster. My Mother didn't like that name so she na ed him Butch.My brother put A gun in my Mother's house after living there for 30 years without one & showed my Mother how to cock it & pull the trigger. Seven mo this later my 80 year old Mother put the gun in her mouth & pulled the trigger. My brother let Butch stay in the house for one year then put him out on the back porch to die. The girl next door called me in Cincinnati & told me he was almost dead, that he could barely make it up the ramp when he went to the yard to potty. I drove 200 miles & took rtwo boys with me. They went on that porch & swooped Butch up.I brought him back to Cincinnati & Buch lived for 3 1/2 years with me. He was about 15 when he died on October 20th, 2017. I loved that dog more than anything or anyone I've ever came in contact with in my life. He was smart, well behaved. You couldn't ask for a better dog. My baby's in Dog Heaven now. I don't know how to share a picture, I,'m 69 years old, not very computer saavy.