Introduction
Ender's Game is an enduring and thought-provoking novel written by Orson Scott Card and published in 1985. It is a futuristic tale about a brilliant young boy named Andrew Wiggin, born third in a society where more than two children was generally outlawed. A species of alien with a hive mind have invaded the Earth two times and to prepare for future invasions, children who show promise are often trained for battle at a very young age. Ender's journey through Battle School and beyond touches on subjects such as deception, loyalty, and compassion from the perspective of an exceptional child in an intolerable situation. For many readers, this book has had a lasting effect, and with the release of the movie starring Asa Butterfield as Ender Wiggin, even more people are being exposed to this provocative story. 
Ender's Game Dog Names in Pop Culture
Featured Famous Dog with Ender's Game Name
Mouse
There are several dogs throughout history that could have been named for characters from the book, if only the book had been written already. In the 1960's the first of many pets on the long-running British children's show Blue Peter was named Petra, a name she shares with the only female battle school student in Ender's Game. Although the puppy from the first episode died from distemper, a lookalike was quickly found and given the name that had been voted on for the puppy, a fact that was hidden from the viewing audience. Petra not only appeared on the show from 1962 to 1977 but also birthed another Blue Peter pet, her son, Patch.
In 1945, a Collie dog by the name of Peter, the same name as Ender's older brother, was awarded the Dickin Medal as a search and rescue dog in London. He was originally transferred to the war service by his owner, who apparently noted that he had a particular talent for destruction and ignoring commands, but when pressed into service he became a determined and talented search and rescue dog.
The dog I'd like to bring your attention to, however, is a more recent addition to pop culture, a fictional canine by the name of Mouse, a Temple dog owned by Harry Dresden, the main protagonist in a series of books called "The Dresden Files." When Ender is playing the Giant's Game in battle school, the avatar with which he finally beats the ruthless Giant is a mouse, an act which requires breaking the rules of the game. Like Ender, Mouse the dog breaks rules on occasion. Mouse is one of a litter of puppies rescued by Dresden and Dresden acquires the dog when, while Mouse's brothers and sisters are being flown home, Mouse stows away in Harry's car and misses the flight to Tibet. He grows into an imposing and large canine who stands about waist high to Harry and sports a thick coat of long grey fur. Mouse, like Ender, is even more impressive and capable than he first appears, and throughout the series he is able to intervene for people several times, at one point waking an entire enchanted apartment building with his bark and in other instances, chasing down both goons and supernatural monsters. Like Ender, Mouse is compassionate, taking a bullet for Dresden's protégé, Molly Carpenter and later serving as a guard dog and emotional support animal for Dresden's daughter, Maggie.
Ender's Game Name Considerations
A good dog name should be something easy to say for both you and for anyone else in your household, a name that your individual dog responds well to, and a name that means something to you. For many of us, the books we read, books like the Ender's Saga series; Ender's Game, Speaker of the Dead, Xenocide, and Children of the Mind, mean a great deal to us and can provide a rich source of names for our beloved pets. While some names are more typically masculine, such as Andrew, or feminine, such as Valentine, don't feel tied down to just one section of the list. Andrew can become Andi if you prefer and Valentine could be Valentino, while other names like Fleet, Dragon, or Launchie could be perfect for either male or female dogs. While the characters in the book and movie provide excellent names on their own, such as Bean, for your tiny dog that gets all the tricks, Valentine for that super, sweet canine with an unstoppable willpower, or Mazer for your dog who never stops pushing boundaries, there are quite a few other names that this Hugo and Nebula award-winning novel can inspire. The canine companion that always has your back might just be your Jeesh, the dog that never touches the ground could go by the name Zero-G, and the animal that destroys everything it touches just might end up with the moniker Dr. Device. 
Male Ender's Game Dog Names
Votes
Name
Vote
8

Eros

The Command School that Ender transfers to is on the asteroid Eros

8

Griffin

Refers to the Griffin army, significant as one of the two armies that Ender's Dragon army has to face on their last day

7

Giant

A reference to the Giant's Drink game, an important element in the Battle School Mind Game

6

Bonzo

The leader of the crew who bullies Ender at Battle School

6

Shen

One of Ender's first friends at battle school and ultimately an member of Ender's Jeesh in the final battle

5

Bugger

A slang term for the Formics, the insect like race that had previously attacked the Earth

5

Dink

Dink Meeker, the captain of the Rat army after Rose the Nose and a member of Ender's Jeesh in his final battle

5

Fly-Molo

A student and later soldier with an impressive memory, Ender's left hand man and a member of his Jeesh during his final battle

5

Major Imbu

Major Imbu is in charge of the computer systems at the battle school

5

Mazer

Mazer Rackham is an admiral of the International Fleet and Ender's teacher and mentor

5

Wiggin

Ender's actual name is Andrew Wiggin

4

Andrew

Although the main character in the book is more commonly known as Ender, his actual name is Andrew Wiggin

4

Carn

Carn Carby is a gracious but effective soldier who is a member of Ender's Jeesh during the final battle

4

John Paul

The father or Ender, Peter, and Valentine Wiggin

3

Ender

The nickname given to the main character of the novel, a young boy by the name of Andrew Wiggin

3

Orson

The author of the novel is Orson Scott Card

2

Dr. Device

A nickname given to the Molecular Detachment Device, the weapon used during Ender's last battle

2

Dragon

There are several armies in the Battle School that have significance to the story, including the Dragon army

2

Rose the Nose

The lackadaisical and sardonic Jewish commander of Rat Army

2

Zero G

Much of the action takes place in the battle rooms in zero gravity

1

Alai

A gifted battle school student who greatly influences Ender and is a member of his Jeesh Ender's final battle

1

Bean

An unusually smart and unusually small battle school student that becomes Ender's right hand man

1

Crazy Tom

An effective but unorthodox toon leader and a member of Ender's Jeesh during his final battle

1

Dap

A significant teacher in the battle school and a sergeant of the International fleet

0

Han Tzu

A Battle School student more commonly referred to by his nickname, Hot Soup, and a member of Ender's Jeesh during his last battle

0

Hugo

Ender's Game won the coveted Hugo award for best novel in 1996

0

Rat

The Rat Armies of the Battle School

-1

Bernard

A Battle School student who bullies Ender, along with Bonzo and his crew

-1

Hyrum

Colonel Hyrum Graff, the administrator of the Battle School and a colonel in the International Fleet

-2

Peter

Peter is the eldest Wiggin child, a brilliant but sociopathic young man
Female Ender's Game Dog Names
Votes
Name
Vote
7

Fairy

Short for Fairyland, the land that was entered in the game when the giant was defeated

7

Queen

The Formics were led by the Hive Queen of Shakespeare

5

Ana

Short for Analog, the magazine which published the original short story that eventually became Ender's Game

5

Lake

A visit with his sister Valentine on an earth lake gives Ender the strength to continue training

5

Phoenix

Significant to the story is the Phoenix army

5

Rabbit

In the Battle School there is a Rabbit army

5

Sally

The Salamander Army is part of the Battle School

4

Miss Pumphrey

Ender's teacher in elementary school, before he is accepted into battle school

4

Mouse

The avatar Ender is playing as when he plays the Giant's Drink game

4

Pupa

The last surviving Hive Queen was revealed to Ender in a pupal form

4

Star

An obstacle placed in the battle rooms that Ender utilized to help win his battles

4

Theresa

The mother of the Wiggin family, Theresa Wiggin

4

Valentine

Ender's brilliant and extremely compassionate older sister

3

Fleet

The world military in the Ender's Game universe is known as the International Fleet

3

Formica

The Latin word for ant, and the basis for the more scientific name for the alien species, Formics

2

Jeesh

A slang term for the battle groups and an Arabic name for army

2

Leopard

The Leopard Army is in the Battle School

2

Marvel

Marvel first published the comic versions of Ender's Game in 2008

2

Nebula

Ender's Game won the Nebula award for best novel in 1985

2

Tiger

Refers to the Tiger army, significant as one of the two armies that Ender's Dragon army has to face on their last day

1

Launchie

The slang term for a new student to the battle school

1

Petra

The only female Battle School student Ender encounters and a member of Ender's Jeesh for the final battle

0

Flash

The students in Battle School wore flash suits during exercises

0

Gwen

In the movie, Major Gwen Anderson is the officer in charge of the battle rooms

0

Maori

Mazer Rackham was originally from New Zealand and was half Maori

-1

Ansible

A fictional device that allows for instant communication across galaxies

-1

DeeDee

The school nurse who assisted the doctor in removing the monitor in Ender's neck before he transferred to battle school

-1

Six

The age Ender was when he was sent to Battle School

-1

Squirrel

The animal Peter killed as a boy that Valentine later used as blackmail to allow Ender to be free

-2

Salaam

A word meaning peace be with you in Arabic, whispered to Ender at a crucial juncture by Alai
Community Dogs with an Ender's Game Name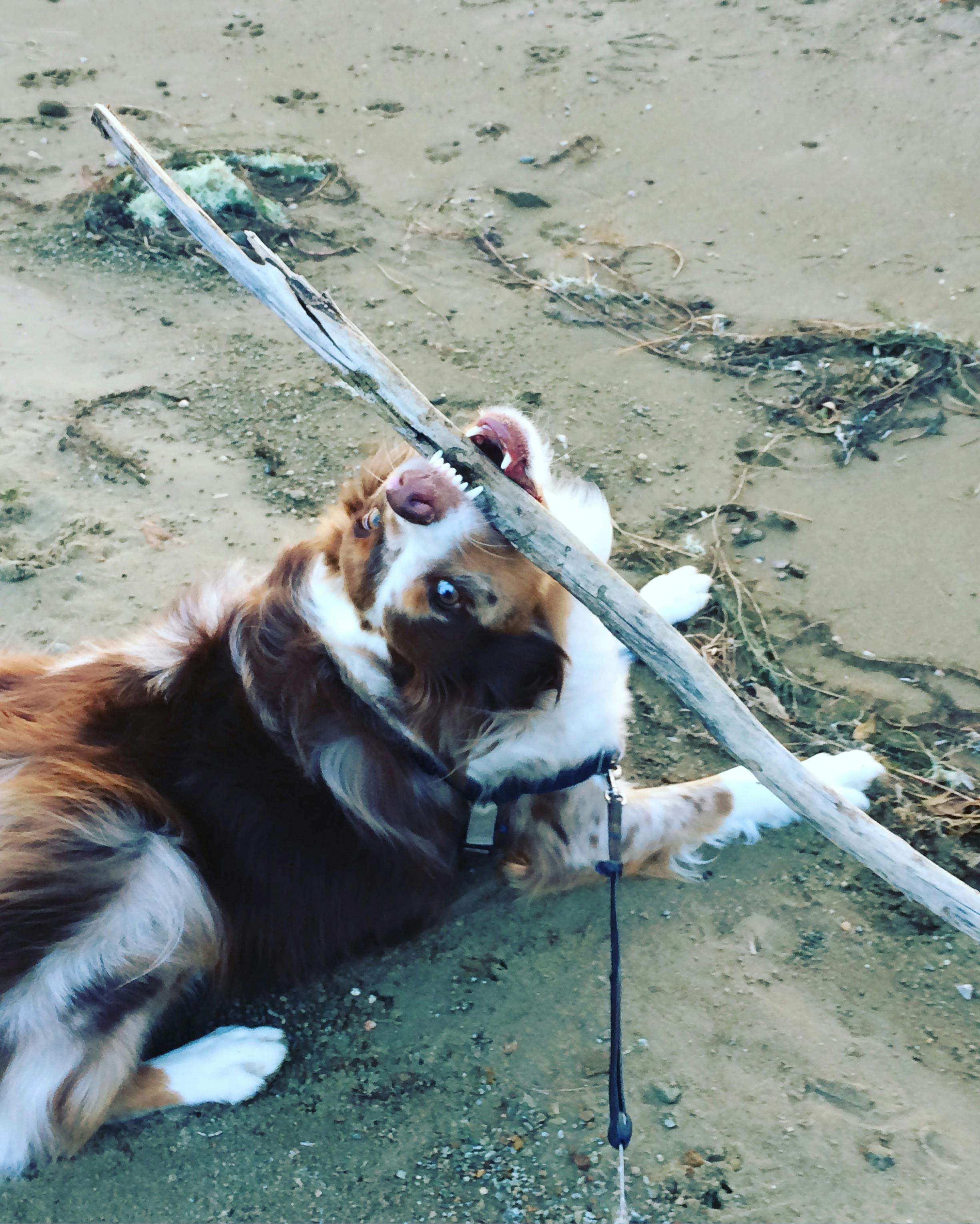 Ender
Male
Miniature Australian Shepherd
Denver, CO
My husband and I are big fans of the Ender's Game series. When we knew we were going to be dog-parents, we thought Ender was a good name because Australian Shepherds are very smart. We have all kinds of fun book references to describe his behavior - like "the enemy's gate is down" when he finds an opportunity to sneak an extra treat.