Introduction
If you're looking to give your dog a famous NASCAR driver name, chances are you are likely a huge fan of motorsports, NASCAR itself, racing in general or maybe you just have a dog that loves to burn around the yard, run in circles or make strange engine-like noises. Either way, there are plenty of notable names to choose from that will help them stand out from the rest. Plus, giving your dog a famous NASCAR driver's name will not only help to pay tribute to one of the greats, but will help to cement your dog's unique personality with a unique name.
Famous NASCAR Driver Dog Names in Pop Culture
Featured Dog with a Famous NASCAR Driver Name
Shakey Jakey
Shakey Jakey might not be a household name, but in the world of dog racing, he certainly holds his own. 
At younger than two years old, Shakey Jakey gained a title few dogs will ever even sniff in their lifetime — one of the fastest dogs in the world. He accomplished as much by destroying a track record at Wentworth Park in Sydney, Australia, taking an incredible 22-length lead over the competition while closing out the race with record-breaking splits. He completed the 520-meter race in 29.07 seconds, .20 faster than the previous record-holder, Punch One Out. The most incredible part? He did so on a sloppy track that had just previously sustained heavy rain. By comparison, the previous record for 515 meters was 29.30. Shakey Jakey did it nearly half a second faster with an additional 5 meters of length and in unfavorable conditions — oh, and it was his racing debut. 
To those who do not follow dog racing, it might seem odd that a dog that shattered such a significant record would make his maiden race also his final race, but his owner, David Pringle, had a much more lucrative career in mind for his lightning-fast racer: siring high-quality and high-demand puppies. Compared to what he might make in races, the estimated value of making Jakey a stud was around $700,000 a year… for 10 years. 
Five minutes after the race concluded, Pringle was made an offer of $500,000 to sell Jakey. Within a week, offers had reached a million, but given the state of taxation in Australia and the allure of owning a "dog of a lifetime", Pringle decided to avoid the risk of further injury (as Jakey ended up with a shoulder issue shortly after the race) as well as potentially ruining his dog's name with any losses he might sustain, and declined the money, opting to instead turn his race-track stud into a siring stud. 
So what's the secret of the canine version of The Flash? First off, he was sired from champions as well. His mother, Kiacatoo Pearl, and his father, Collision, were also champions who not only sired him but several other champions. Pringle is also a third-generation Greyhound trainer who feeds all of his dogs a secret family recipe and for a time, was housing them in a heated, double-brick dog kennel, but even when that changed, he still kept them in considerable luxury compared to the standard canine accommodations that exist in most homes. 
Famous NASCAR Driver Dog Name Considerations
The biggest initial consideration is whether or not the name is being chosen for you or your dog. If it's for you, then rest assured it will be perfectly suitable to select a name from one of your favorite NASCAR drivers and just start calling them by your chosen name. However, if you plan on choosing a name that has a bit more depth and is a little more personally tailored to your canine companion, there are a few different ways you can approach it. 
You can always take their looks into consideration. For instance, both Richard Petty and Dale Earnhardt had distinct mustaches, so if your dog happens to as well, Petty and Earnhardt would both make great names. 
Personality can be a great way to go. Guys like Benny Parsons had a big heart, so if your dog does too, it might make a good fit. The same holds true for Gentleman Ned, who got his nickname for good reason, so if your Pug is perfectly patient and well-behaved, there you go. On the other hand, if they have big egos they like to march around, maybe Rowdy or Busch, after Kyle Busch, would be more suitable. 
Whatever you choose, don't feel limited to the ideas we've laid out here. In fact, they don't even have to be famous. You can always just roll with a favorite since, you never know, they might become famous anyway.
Male Famous NASCAR Driver Dog Names
Votes
Name
Vote
1

Gordon

After Jeff Gordon, four-time Sprint Cup winner, three-time Daytona 500 winner

1

Stewart

After Tony Stewart, three-time Monster Energy champ

0

Waltrip

After Darrell Waltrip, three-time NASCAR Cup Series champion and three-time runner up

0

Junior

After Junior Johnson, won 50 NASCAR races

0

Marvin

After Marvin Panch, won 17 Grand Nationals in 17 years

0

Ingram

After Jack Ingram, 31 wins and 5 poles in eight seasons

0

LeeRoy

After LeeRoy Yarbrough, career of fourteen wins, 65 top-five finishes, 92 top-ten finishes, and ten pole positions in 198 races

0

Wood

After Glen Wood, won 4 races in his 11-year career

0

Rex

After Rex White, won six races and the Grand National in 1960

0

Owens

Refers to Everett "Cotton" Owens

0

Cotton

After Everett "Cotton" Owens, from 1957–61, captured at least one Grand National Series win

0

McGriff

Hershel McGriff, Grand National champion

0

Hershel

After Hershel McGriff, four-time Grand National champion

0

Isaac

After Bobby Isaac, holds Sprint Cup Series record for most poles in a season

0

Irvan

After Ernie Irvan, numerous stock car Hall of Famer

0

Ernie

After Ernie Irvan, best known for his comeback after serious injury

0

Hendrick

After Ray Hendrick, 36-year motorsport veteran, over 700 victories in modified

0

Foyt

After AJ Foyt, only driver to win the Indianapolis 500 (4x), Daytona 500, 24 Hours of Daytona, and 24 Hours of Le Mans

0

Buddy

After Buddy Baker, holds the record for fastest Daytona 500 run ever, avg 177 mph

0

Baker

After Buck Baker, two championships

0

Buck

After Buck Baker, 372 top-ten placements

0

Dale

After Dale Earnhardt, seven-time Monster Energy NASCAR Cup Series champion

0

JJ

After Jimmie Johnson, seven-time Monster Energy NASCAR Cup Series champion

0

Jarrett

After Ned Jarrett, NASCAR Grand National Series champion, or Dale Jarrett

0

Gentleman

After "Gentleman Ned" Jarrett, two-time NASCAR Grand National Series champion

0

Elliott

After Bill Elliott, won '88 Winston Cup w/ 44 wins in the series, record four consecutive wins at Michigan International Speedway

0

Wallace

After Rusty Wallace, member of four stock car Hall of Fames

0

Martin

After Mark "the Kid" Martin, Hall of Fame driver called "the best driver not to win a championship" by ESPN

0

Handsome

After "Handsome Harry" Gant

0

Harry

After "Handsome Harry" Gant, won four consecutive Winston Cup and Busch Series races
Female Famous NASCAR Driver Dog Names
Votes
Name
Vote
0

Yarborough

Refers to Cale Yarborough

0

Cale

After Cale Yarborough, one of only two drivers in NASCAR history to win three consecutive championships

0

Allison

After Bobby Allison, three-time Daytona 500 winner

0

Petty

After Lee Petty, NASCAR pioneer

0

Lee

After Lee Petty, one of the first superstars of the sport

0

Smoke

After Tony Stewart, aka Smoke

0

Onion

After Todd "the Onion" Bodine, younger brother of Geoff Bodine

0

Panch

After Marvin Panch, won 17 Grand Nationals

0

Parsons

After Benny Parsons, Winston Cup champ and NASCAR Hall of Famer

0

Turner

After Curtis Turner, holds multiple records for Convertible wins, poles

0

Weatherly

After Joe Weatherly, two-time Grand National, three-time AMA Grand National and two-time Modified champ

0

Kid

After Mark "the Kid" Martin, Hall of Fame driver called "the best driver not to win a championship" by ESPN

0

Teague

After Marshall Teague, 1950s NASCAR hero, launched the career of Smokey Yunick

0

Rooster

After Ricky "the Rooster" Rudd, 23 career wins

0

Rudd

After Ricky "the Rooster" Rudd, multi sports Hall of Fame member

0

Tiny

After DeWayne "Tiny" Lund, won 41 of the 109 Grand American events

0

Lorenzen

After Fred Lorenzen, first driver in NASCAR history to win races at all five original southern superspeedways: Daytona, Darlington, Atlanta, Charlotte, Rockingham

0

Farmer

After Red Farmer, one of stock car racing's most accomplished drivers

0

Red

After Red Farmer, one of stock car racing's earliest drivers

0

Bodine

After Geoff Bodine, multi-single-race champ, oldest of the three Bodine brothers

0

Pearson

After David Pearson, three-time Grand National champ, called "the model of NASCAR efficiency during his career" when inducted into the NASCAR HOF

0

Earnhardt

After Dale Earnhardt, Monster Energy NASCAR Cup Series champion

0

Flock

After Tim Flock, two-time NASCAR series champion

0

Busch

After Kyle "Rowdy" Busch, holds record for most Xfinity Series wins in a season and most overall

0

Rowdy

After Kyle "Rowdy" Busch, multi-cup champion

0

Labonte

After Terry Labonte, won many Championships

0

Terry

After Terry Labonte, two-time NASCAR Sprint Cup champ, among other Championships

0

Fireball

After Edward Glenn "Fireball" Roberts, one of NASCAR's earliest heroes

0

Rusty

After Rusty Wallace, member of four stock car Hall of Fames

0

Gant

Referring to Winston Cup winner "Handsome Harry" Gant
Community Dogs with Famous NASCAR Driver Names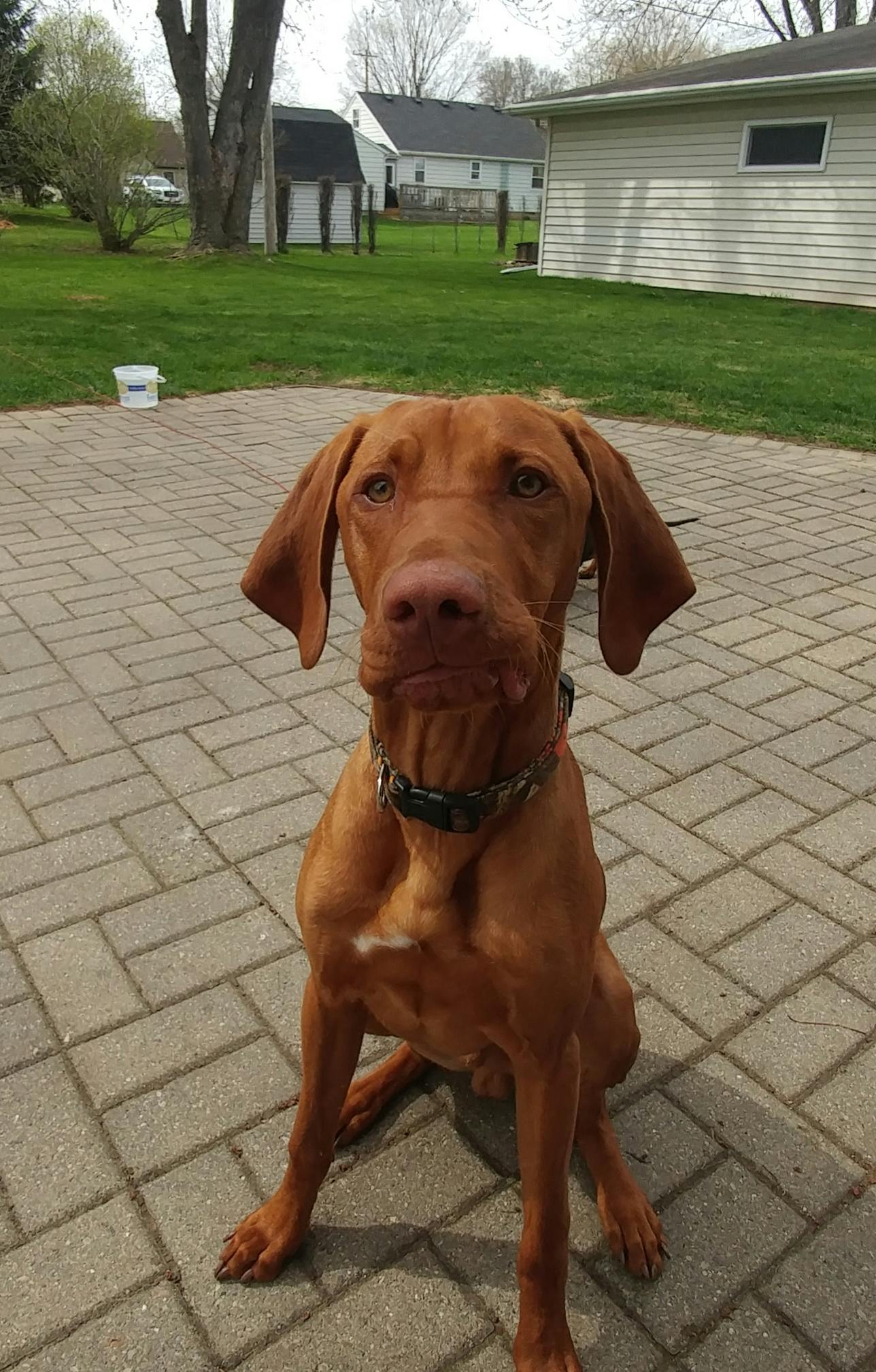 Maverick
Male
Vizsla
Little Chute, WI