Introduction
The Kerry Blue Terrier is a show stopping kind of dog that grabs people's attention anywhere they go. Their coat color comes in a variety of blue shades and is very dense. They have dark, intense eyes that are topped with distinguished eyebrows. The Kerry Blue Terrier also sports a jaunty beard, giving the long terrier head character. This terrier was once a common farm dog in their native Ireland used to control rats and other vermin around the farm. The Kerry Blue Terrier is a higher energy dog and does require a job to do or they will make their own fun. While not normally a barky dog, they can become loud when strangers approach their home. They also make great family companions. 
Kerry Blue Terrier Dog Names in Pop Culture
Featured Famous Kerry Blue Terrier Dog
Mick
When it comes to dreaming big, Mick was a superstar. In reality, Mick really was a superstar. He was the stunning Kerry Blue Terrier that captured the hearts of people throughout Europe when he won big at the Crufts Dog Show. Champion Torums Scarf Michael was only three years old when he won Best in Show at Crufts 2000 hosted at Birmingham's National Exhibition Centre. Mick and his breeder, Ron Ramsay, were presented with the prestigious trophy by Prince Michael of Kent and Peter James, the chairman of the Kennel Club. Mick and Ramsay are from Tranmere, Merseyside. Mick was the top terrier in the country and had won five Best in Show and two Reserve Best in Show. After winning Crufts, Ramsay felt that Mick's show career was finished because he had won the ultimate prize.

Mick's win at Crufts 2000 was the end of an era that had made Crufts such a prestigious show. The quarantine laws in Britain changed in 2001 making it easier for foreign dogs with pet passports to compete at Crufts. This opens the show up to even more entries. In 2000, there were about 20,000 dogs entered. With foreign dogs now able to compete at Crufts, it was only natural that the Westminster Kennel Club in the United States allows foreign dogs to compete. It was decided in 2002 to bring Mick back to the Westminster Dog Show held at New York City's Madison Square Garden in February of 2003. For the past two years, Mick has been overlooked because he would not settle while being examined by the judge. With a crowd of over 10,000 people, it can be a little nerve wracking for even the most seasoned show dog.
Mick was handled by Bill McFadden. McFadden had his work cut out for him since he was competing against the heavy favorite, a German Shepherd Dog named Dallas handled by James Moses. In 2002, Mick won big at the AKC/Eukanuba National Invitational Championship Dog Show held in Orlando, Florida. At Westminster, Mick posed perfectly for Judge Irene Bivin in the Best in Show competition. The total number of dogs competing at the 127th Westminster Dog Show was 2,603 with 159 breeds and varieties represented. Mick's win at Westminster was his 113th Best in Show during his career. While Mick was not ready for full retirement after winning at Westminster, his show schedule was significantly pared down to give him a rest but still enjoy traveling around to various dog shows. 
Kerry Blue Terrier Dog Name Considerations
The Kerry Blue Terrier is a fun, smart, happy dog that loves spending time playing games or chasing vermin. These dogs are typical terriers and do require a significant amount of human interaction. They are a unique breed with a blue coat that can vary from a light blue to a dark grayish blue. The Kerry Blue Terrier has been in existence for centuries and is a well-known breed. Names from Ireland or that are strongly influenced by Irish traditions would be the perfect place to start when searching for the right name for your new Kerry Blue Terrier. Because of their mischievous personality, it is best to get to know your new Kerry Blue Terrier before you choose a name for them.  Finding names that the entire family can agree on may be the hardest part when trying to name your new Kerry Blue Terrier. Have everyone write down names that they like and then create a list based on those suggestions. Cross out any names that are similar to other dogs in the family or neighborhood and also get rid of any names that sound too close to typical commands you will be using in their training. Be creative and have fun when picking a name for your new family member. 
Male Kerry Blue Terrier Dog Names
Votes
Name
Vote
1

Blue

The color of their coat

-1

Kerry

Dusky or dark; a region on Ireland

-1

Brody

From the muddy place

-1

Kevin

Handsome by birth

-1

Sean

God is gracious

-1

Ryan

Little king; illustrious

-1

Blair

Child of the fields

-1

Connor

Strong willed and wise; hound lover

-1

Keegan

Small and fiery

-1

Sun

From the town by the river Boyn

-1

Quinn

Wisdom; intelligence

-1

Griffin

Strong in faith

-1

Niall

Champion; being passionate

-1

Aiden

Little fire; the name of a saint

-1

Shane

God is gracious

-1

Fallon

Being in charge

-1

Desmond

From south Munster

-1

Amery

Divine; long hill or ridge

-1

Riley

Valiant; brave

-1

Cullen

Handsome; good looking

-1

Nolan

Famous and noble

-1

Delaney

Descendant of the challenger

-1

Murphy

A sea warrior

-1

Keith

Forest; densely wooded area

-1

Tag

Handsome; form of Teague

-1

Cronan

Little dark one

-1

Barry

Marksman; fair haired

-1

Shea

Hawk like and majestic

-1

Case

Alert and vigorous

-1

Declan

Full of goodness
Female Kerry Blue Terrier Dog Names
Votes
Name
Vote
1

Bridget

Power, strength, vigor, and virtue

0

Fiona

Fair; from the vine

0

Bree

Hill; short for Brianna

0

Kellyn

Descendent of a bright headed one

0

Caitlin

Pure and clear

0

Brielle

God is my strength

0

Deirdre

Melancholy; broken hearted

0

Kennedy

Helmet head; misshapen head

0

Bryna

Strong or ascends

0

Ciara

Little dark headed one

0

Reagan

Little ruler; wise ruler

0

Cassidy

Curly headed; clever

0

Neala

Female champion; feminine form of Niall

0

Eila

Giver of life

0

Alaina

Light; bright as a torch

0

Sorcha

A bright, radiant light

0

Honor

One with great virtue

0

Colleen

Little girl in Irish

0

Siohban

God has been gracious

0

Keir

Dusky; dark haired

0

Jana

Gift of God

0

Callie

Most beautiful

0

Maeve

Intoxicating; famous Irish warrior queen

0

Radha

A vision; a cowgirl

0

Adara

An unblemished pearl

0

Ultana

Queen or empress

0

Mona

Little noble one

0

Keanna

Ancient; gracious or favored

0

Shauna

God is gracious; gift from God

0

Nessa

Pure and chaste; poor
Community Dogs With Kerry Blue Terrier Names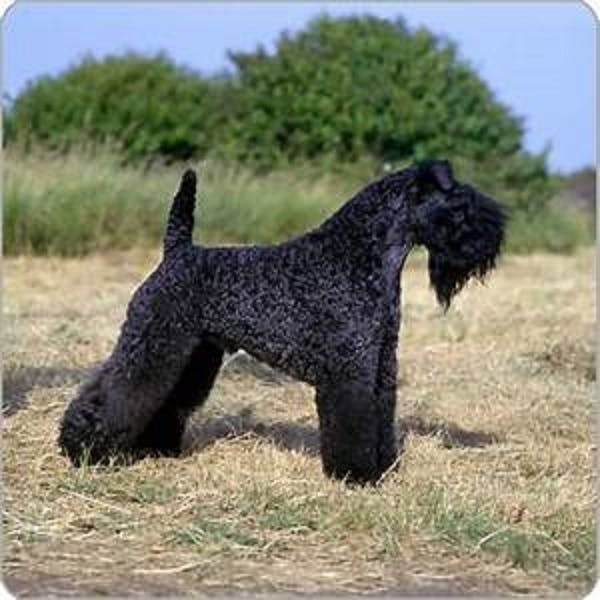 Bridget may
Female
Kerry Blue Terrier
Wheeling, IL
Personality
Fiesty
awesome
Smart