Introduction
Coming up with the right name for your new canine pal can be a challenge, as there are many potential options to consider. Choosing a name that reminds you of something of which you are particularly interested in may be appealing; every time you call your new pooch, you will be reminded of what is meaningful to you. The Star Wars films offer a myriad of naming opportunities that may be ideal for the new dog of a Star Wars fan. By choosing a Star Wars-themed name, each time you call your dog you will be reminded of the films and enjoy the feeling of exhilaration you may feel each time you watch one of the episodes.
Star Wars Dog Names in Pop Culture
Featured Famous Dog with a Star Wars Name
Chewbacca
Star Wars has had a very popular presence since it first came out in 1977. Written and directed by the amazing George Lucas, Star Wars, later retitled Star Wars: Episode IV-A New Hope, the film was the first of a trilogy, with Empire Strikes Back and Return of the Jedi, in 1980 and 1983 respectively. Between 1999 and 2005 the prequel trilogy of Star Wars films were released, while episodes seven and eight were released in 2015 and 2017. In addition to these exciting films, there are comics, novels and video games.
One of the most popular characters in the films is the Wookiee Chewbacca, who is Han Solo's copilot of the Millennium Falcon. According to an interview with George Lucas, the creator of Star Wars, his dog Indiana was the inspiration for the Wookiee. Lucas stated that his dog was a "big bear of a dog" who always sat next to him in the car; much like Chewbacca, the Wookiee who is always seen accompanying Han Solo, to whom he is very loyal. Han Solo met the Wookiee after he entered the Imperial Academy. Han refused to beat him with a neuronic whip and he and Chewbacca ultimately left the imperials together. Chewbacca became Han Solo's partner in his life debt to him. In addition to their on-screen partnership, there are books focusing on the adventures of the pair. These include: Han Solo at Stars' End, Han Solo's Revenge and Han Solo and the Lost Legacy. Upon Han Solo's death in The Force Awakens, Chewbacca continues in his role of co-pilot, with Rey taking over as the Pilot of the Millennium Falcon.
Carrie Fisher, the actress who played the role of Princess Leia Organa throughout the films had a special relationship with her French Bulldog, whose name is Gary. Gary was initially her therapy dog, and he ultimately became a very special friend who joined her everywhere she went. His being ever-present led to him earning a cameo in the last film that Fisher was a part of. In Star Wars: The Last Jedi, he played the part of a small alien that was in the arms of a background character. 
Star Wars Dog Name Considerations
Choosing a Star Wars themed name for a new canine pal may make sense for a number of reasons. Some may consider going this route as a result of being a huge fan of Star Wars. The idea of naming your new friend after these films that have been an important part of your life may be appealing as calling his name will remind you of the films that have made such an impression on you.
Your dog may remind you of something about the Star Wars films or one of the characters. The reminder could be in regards to a physical resemblance (for example a large dog with shaggy fur may bring to mind Chewbacca), or it could be the result of how the dog behaves. For example, a dog that seems serious for the most part, while whining on occasion, may bring to mind Luke Skywalker.
No matter the reason that you choose a name with a Star Wars theme, you will have plenty of options to choose from. In addition to evoking feelings of the films and other media, a Star Wars-themed name will be sure to bring knowing smiles from other fans.
Votes
Name
Vote
9

Falcon

The Millennium Falcon is Han Solo's ship

7

Bail

For Bail Organa, the father of Princess Leia

6

R2D2

A robot character who appears in all of the Star Wars films

6

Han Solo

Inadvertently becomes involved in the Rebel Alliance's struggle against the Galactic Empire

6

Chewbacca

The Wookiee who is Han Solo's copilot of the Millennium Falcon

5

Anakin

For Anakin Skywalker, who ultimately becomes Darth Vader

5

Dengar

A Corellian bounty hunter

5

Bail

Bail Antilles is an Alderaanian senator

4

Wes

Wes Janson is a fighter pilot and founder of the elite Rogue Squadron

4

Paploo

An Ewok in Return of the Jedi

4

Boba Fett

A bounty hunter hired by Darth Vader

3

Owen

Owen Lars is the Uncle and adoptive parent of Luke Skywalker

3

Grevious

Supreme commander of Separatist droid armies who is killed by Obi-Wan Kenobi in Revenge of the Sith

3

Romba

An Ewok in Return of the Jedi

3

Greedo

A Rodian bounty hunter

3

Cassian

Cassian Andor is a captain and intelligence officer of the Rebel Alliance

3

Finn

First appearing in the film Star Wars: The Force Awakens, Finn is a Stormtrooper who flees and turns against the First Order

2

Jaba

For Jaba the Hutt, a crime boss who is killed by Princess Leia

2

C3P0

A humanoid robot character who was created to provide assistance with etiquette, customs and translation

2

Lando

Lando Calrissian is an associate of Han Solo first seen in Empire Strikes Back

1

Borvo

A Hut smuggler in The Phantom Menace

1

Palpatine

Naboo Senator and Supreme Chancellor of the Republic

1

Wedge

Wedge Antilles is a Starfighter pilot for the Rebel Alliance

0

Obi-Wan

Also known as Ben Kenobi, he is a Jedi Master who is living as a hermit in the original Star Wars film

-1

Darth Vader

Also known as Anakin Skywalker; the story of his corruption is key to the narrative of the prequel trilogy

-1

Ben

The name that Obi-Wan Kenobi is going by when he is living as a hermit on Tatooine

-2

Ford

The last name of the actor Harrison Ford who plays Han Solo

-3

Luke

For Luke Skywalker, the main protagonist of the original Star Wars trilogy

-4

Kylo Ren

The chosen name of Ben Solo, whose parents are Han Solo and Princess Leia
Female Star Wars Dog Names
Votes
Name
Vote
7

Leia

Princess of Alderaan, member of the Imperial Senate and agent of the Rebel Alliance

7

Mama

Mama the Hutt is the grandmother of Jabba the Hutt

6

Sola

Sola Naberrie is Padme Amidala's sister

6

Carrie

For Carrie Fisher, the actress who has played the role of Princess Leia

5

Sabe

One of Queen Amidala's handmaidens in the Phantom Menace

5

Daisy

The actress who plays Rey

5

Sabine

A 16 year-old Mandalorian graffit artist

5

Oola

A Twi'lek dancer who Jabba the Hutt enslaves; her character is killed by the anger of Jabba

5

Jamillia

The Queen succeeding Padme Amidala

4

Tallissan

A resistance X-Wing pilot and leader in the Last Jedi

4

Norra

For Norra Wexley,a rebel pilot

4

Jessika

An X-Wing pilot of the Resistance

4

Satine

Satine Kryze is the Dutchess of Mandalore who wants to keep the planet out of the Clone Wars

4

Lyra

Mother of Jyn Erso in the film Rogue One

3

Shmi

Anakin's mother

3

Karina

Karina the Great is the Queen of Geonosis during the Clone Wars

3

Maz

Maz Kanata, an ancient space pilot

2

Ridley

For Daisy Ridley the actress who plays Rey

2

Aayla

A Twi'lek Jedi appearing in Attack of the Clones, Revenge of the Sith and the Clone Wars

2

Korr

For Korr Selia, a human female military officer who serves under Leia in the Force Awakens

2

Letta

A radical activist who was against the Jedis being involved in the Clone Wars

1

Rey

A scavenger left behind on the planet Jaaku who finds that she has skills with the force

1

Hera

A Twi'let who leaves her home to fight the empire

1

Amidala

Padme Amidala is the love interest of Anakin Skywalker and the biological mother of Luke and Leia

0

Phasma

Captain Phasma commands the Stormtroopers in the Force Awakens

0

Wookiee

A fictional species of intelligent bipeds in the Star Wars films; species of the popular Chewbacca

-1

Apailana

Naboo's Queen during the last year of the Clone Wars in Revenge of the Sith

-2

Rabe

The handmaiden to Queen Amidala

-2

Mon Mothma

A Republic senator who later cofounds and leads the Rebel Alliance

-4

Pooja

For Pooja Naberrie, the daughter of Sola Naberrie and Padme Amidala's niece
Community Dogs with Star Wars Names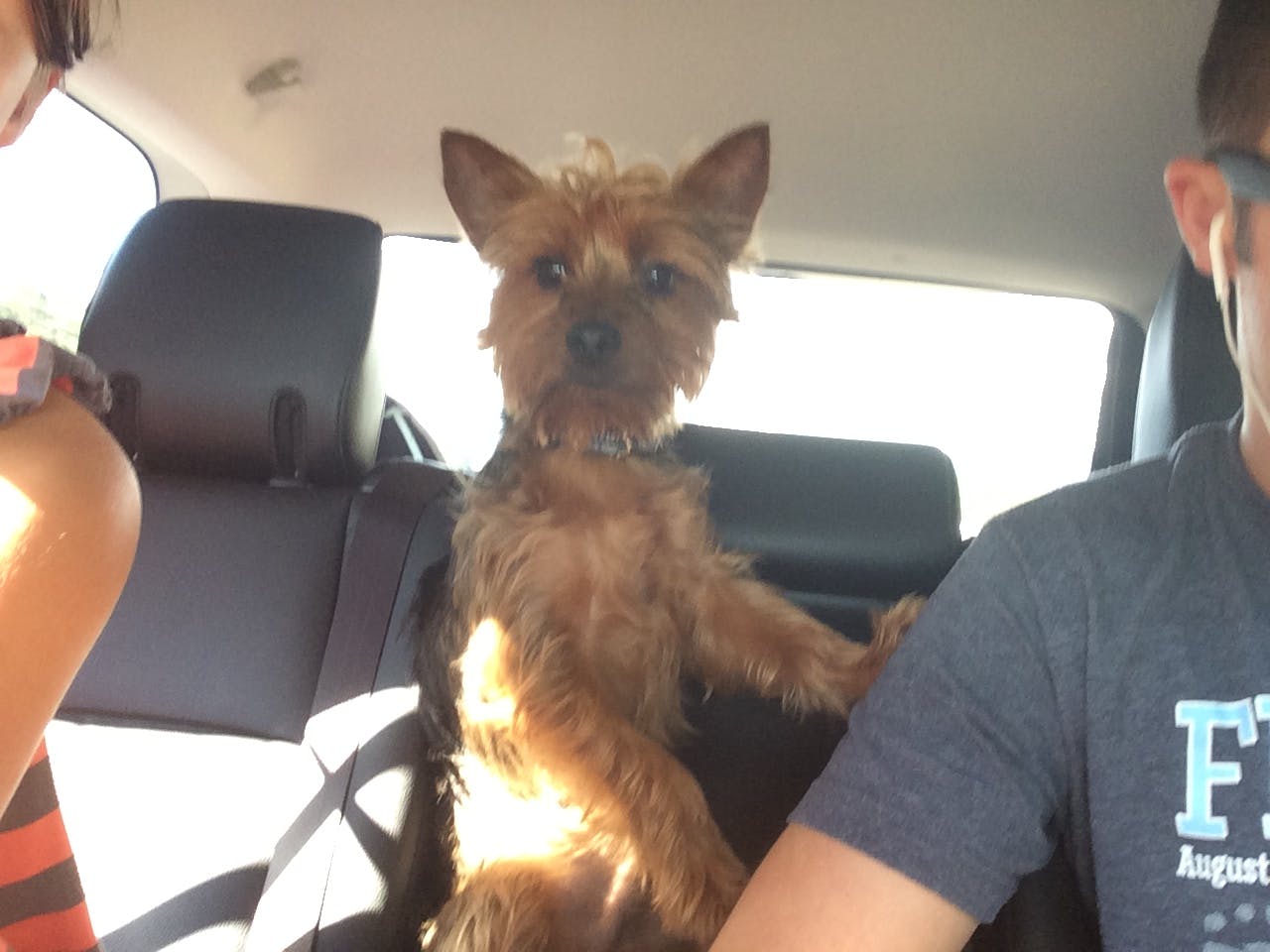 Trooper
Female
Yorkshire Terrier
Georgetown, TN
My friend named hers chewy so why not my dogs name be trooper