Introduction
Picking a unique fish name is tough. It seems like everyone you think of has already been taken. Or you finally find one you like and your family doesn't. Hopefully, this guide can help you come up with a unique fish name that suits your finned baby and your family too. We'll discuss unique fish names in pop culture, things to consider when naming a fish, and give you 60 of our favorite names to ponder for your fishy.

Unique Fish Names in Pop Culture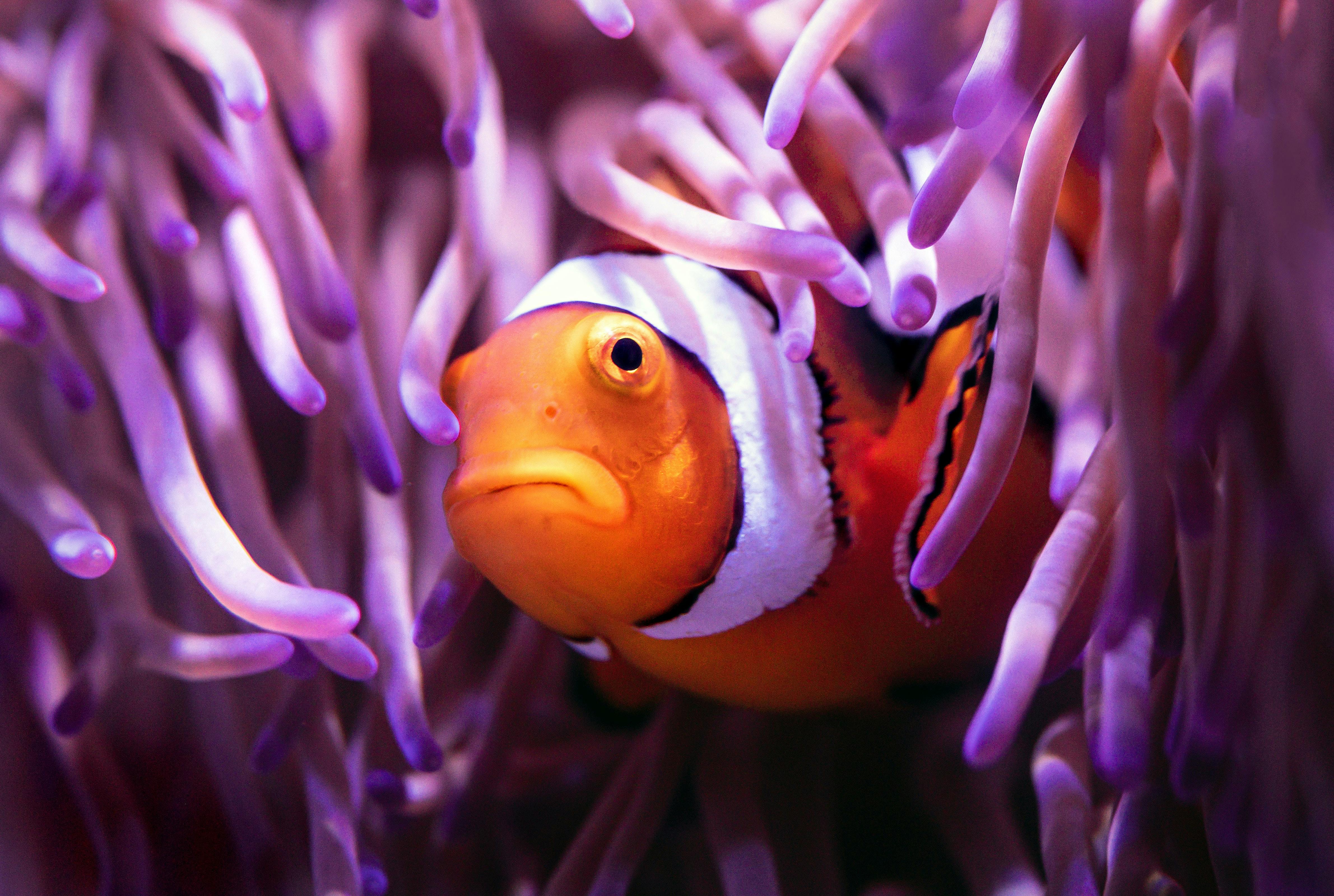 Featured Famous Fish with a Unique Name
Nemo
From Cosmo and Wanda in the Fairly Odd Parents to the childhood favorite story "Rainbow Fish," you'll find no shortage of unique fish names on the big screen. Arguably the most popular fish in pop culture is Nemo, the beloved main character from Finding Nemo. 
This adorable clownfish won the hearts of millions after the movie's 2003 release. In the film, Nemo gets separated from his dad, Marlin, and goes through a wild journey to find himself back in familiar waters. Marlin finds himself in some precarious situations, including being attacked by sharks and an encounter with an anglerfish after Nemo is taken from the ocean by a diver. Along the way, Marlin meets a forgetful yet equally lovable Pacific Blue Tang Fish named Dory. 
Dory helps Marlin navigate his way through the oceanic trenches and schools of jellyfish to reunite with his dear Nemo, who finds his way into a murky Doctor's office fish tank. Nemo and his newfound tank buddies devise a daring escape plan where they block the water filter in hopes the dentist to have to remove the fish to clean the tank. 
When that plan fails, Nemo fakes death and ends up flushed down a sink where he makes his way through the pipes into the Sydney Harbor, where he reunites with Marlin and Dory. Dory's adventures are continued in the 2016 move Finding Dory where she undergoes some mishaps of her own. 
The name Nemo means "no one" in Latin, which is fitting based on the storyline. When Nemo initially gets lost, he feels lonely and has no one in the world to depend on, but as the story progresses, he makes countless friends who help him along his journey. 
Unique Fish Name Considerations
There are a few things to take into consideration when picking a unique name for a fish. Consider your fish's personality and coloring. For instance, "Rainbow" might be a good name for fish with colorful scales and fins. Whereas "Nori," the term for dried seaweed, would be suitable for a black or dark green fish. 
Study your fish's behavior as well. This can help you pick a perfectly-suited name to match their personality. Does your fish swim up to greet you when you go to feed them or dart off to hide? Are they social with the other fish in your tank or stay by themselves? A fast swimming betta fish might benefit from a speedy name like "Flash" or "Bolt." "Mousey" would be a cute name for a sheepish fish, whereas an outgoing fish might be more of a "Fizz" — you know, because of their bubbly personality. 
Picking a pet name is kind of like throwing spaghetti at a wall and seeing what sticks. You may have to go through a few strands before you find the right one for your baby. 
Votes
Name
Vote
0

Hydra

A mythical water monster from Greek and Roman lore.

0

Chomp

For those nibbling guppies.

0

Fynn

A punny name for any fish.

0

Copper

An orange-colored conductive metal fit for any orange fishy.

0

Astro

An out-of -this world name for your finned pal.

0

Sushi

A seafood delicacy made with raw fish and rice.

0

Neptune

The water God from Roman mythology.

0

Poseidon

A powerful name inspired by the Greek god of the sea.

0

Noodle

A fun food name fit for a slippery fishy.

0

Scuba Steve

A fictional cartoon character from the Adam Sandler movie "Big Daddy".

0

Tuna

A species of saltwater fish.

0

Squirt

A teeny sea turtle with a big attitude in Finding Nemo.

0

Blaze

A great name for a red and blue betta.

0

Rubiks

A colorful 3D puzzle and a great name for a multicolored fish.

0

Captain Jack

The lead character from the Pirates of the Caribbean.

0

Draco

A character in Harry Potter in the Slytherin house.

0

Horsea

A seahorse-like Pokémon character.

0

Marley

A cool name for a super chill fish.

0

Chief

For the head fish in charge.

0

Elvis

The king of rock and roll and a suitable name for flamboyantly. colored fishy.

0

Charlie

The main character from the classic TV show, Charlie Brown.

0

Vision

A synthezoid superhero from the Marvel universe.

0

Barnacle

An arthropod that grows on the side of ships.

0

Kelp

A type of seaweed and that provide shelter to many species.

0

Hurricane

A violent sea storm and perfect name for a no-nonsense fish.

0

Gill

A popular human name and play on fish anatomy.

0

Zippy

A fun name for a fast fish.

0

Chowder

A punny cartoon character from a show of the same name.

0

James Pond

A video game and sophisticated name for any finned pet.

0

Champ

For the fastest swimmer around.
Votes
Name
Vote
0

Ariel

A red-headed Disney mermaid princess.

0

Crystal

A type of gemstone and a great name for a sparkly fish.

0

Oli

A cute and simple name for an adorable finned fellow.

0

Shelly

A seashell inspired name.

0

Apricot

An orange-colored stone fruit.

0

Hoya

A waxy leafed tropical plant with large flower clusters.

0

Hibiscus

A fragrant tropical plant with gorgeous brightly colored flowers.

0

Sparkle

A girly name for fish with iridescent scales.

0

Scarlet

A deep and brilliant red color.

0

Coral

A plant-like animal that grows in colonies along the sea floor.

0

Mrs. Puff

A character from Spongebob Squarepants.

0

Goldeen

A goldfish-like water type Pokémon.

0

Ginger

An accoutrement served with sushi.

0

Luna

A pretty name that means "moon" in Latin.

0

Kai

A simple name that means "ocean" in Hawaiian.

0

Zelda

A character from the video game The Legend of Zelda.

0

Aurora

Meaning "dawn" in Latin.

0

Pixie

A fairy-like creature.

0

Topaz

A yellow-ish gemstone and perfect name for a goldfish.

0

Pearl

A shiny round object produced by clams, oysters, and mussels, and used to make jewelry.

0

Prissy

For those high-maintenance fish.

0

Charlotte

Great for a little fish, since it means "petite" in French.

0

Aria

A name that means "melody" in Italian and "lioness" in Hebrew.

0

Moana

A brave Disney princess who loved the sea.

0

Nessie

A nickname given to the Loch Ness Monster.

0

Akira

Meaning sunlight in Taiwanese.

0

Flo

A punny name for fish that go with the flow.

0

Sienna

A warm red color.

0

Lola

Meaning "sorrow" in Spanish.

0

Amphitrite

Greek goddess of the sea.
Fish with Unique Names